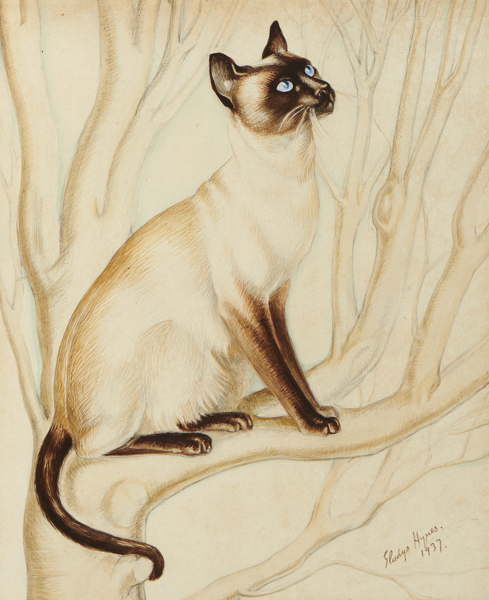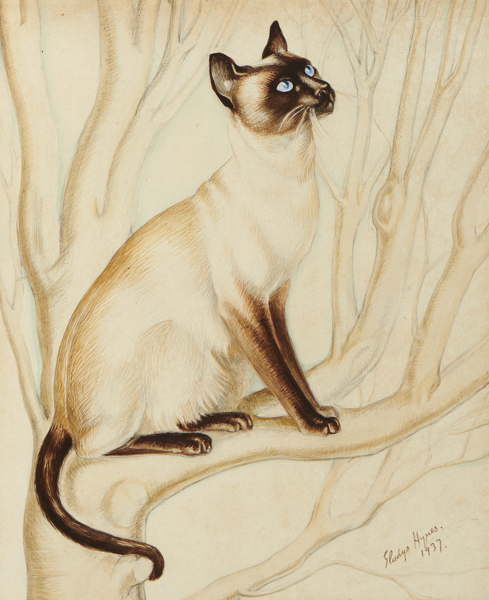 Hover over the painting to magnify (there may be an initial delay while the magnified image is loaded)
Gladys Hynes (1888-1958):
Siamese Cat in a Tree, 1937
Framed (ref: 10560)

Signed and dated
Watercolour
11.4 x 8.9 in. (29 x 22.5 cm)
See all works by Gladys Hynes watercolour animals design illustration 1.Master Drawings
Provenance: Private collection
In a letter to the Irish revolutionary Desmond FitzGerald - written from Cornwall in 1931 - Gladys Hynes mentions a cat, and how it's actions might inspire her work:
It is wonderful here, I work all day carving, in a little cobbles [xxx] looking out onto a beautiful garden. There is a white cat and her kitten who be in the [xxx] in front of me and go into poses every one of which one could sculpt – a [xxx] parrot hangs in a cage against a white wall and asks me anxiously at intervals "Are you very well?" And I always honestly answer him, "Yes"!
During her career, Hynes contributed to Roger Fry's (1866– 1934) Omega Workshops, illustrated books – including the folio edition of Ezra Pound's A Draft of the Cantos nos. XVII to XXVII (1928) – undertook sculpture commissions and theatre designs. She exhibited with the RA, the LG, the International Society of Sculptors, the Paris Salon and at the 1924 Venice Biennale.