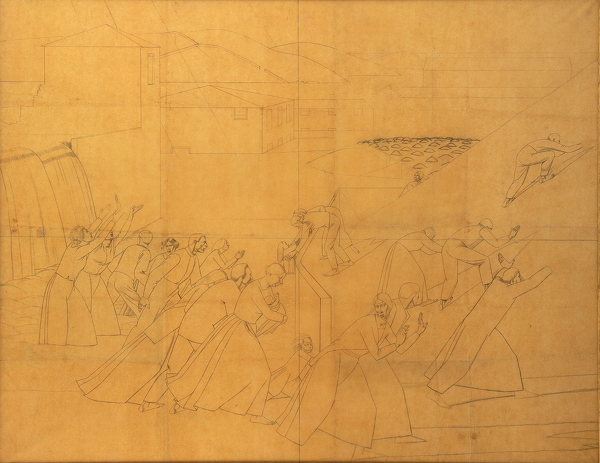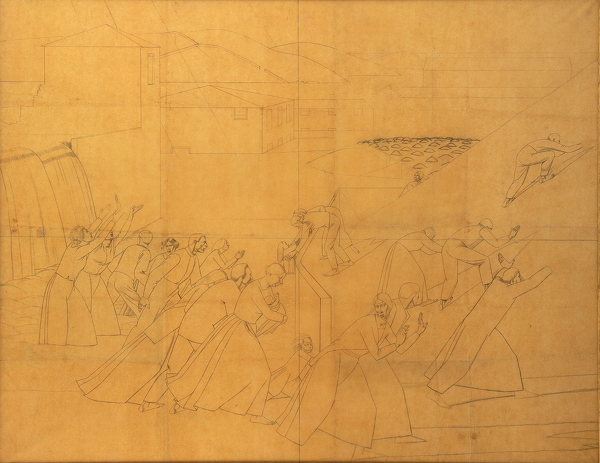 Hover over the painting to magnify (there may be an initial delay while the magnified image is loaded)
Winifred Knights (1899-1947):
The Deluge - The Original Cartoon, circa 1919
Framed (ref: 214)
Pencil on tracing paper,
60 x 72 in. (152.4 x 183 cm)
See all works by Winifred Knights pencil British School of Rome 1.Master Designs 1.Master Drawings Knights at Dulwich Modern British Art at Mercers' Hall No Mans Land
Provenance: The Artist's Family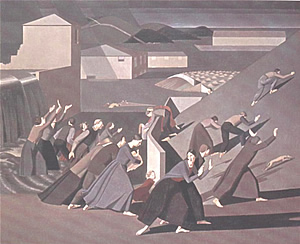 'The Deluge' was the prescribed subject for the 1920 British School at Rome Scholarship in Decorative Painting. The Scholarship rules required that the painting was produced in oil or tempera, together with a cartoon, both of which were to be executed in eight weeks. Winifred Knights commenced work on July 5th 1920 and despite losing time through illness was judged the winner, news of which she received on 21st September 1920.

Knights presented Eleven Shaw, (Secretary of the British School at Rome), with a sketch book inscribed My Book of Studies, for the Rome Scholarship, 1920 (collection Catherine Meeson), which contains numerous studies for the painting. The artist's mother modelled for the central figure carrying the baby and Arnold Mason for the male figure beside her and the man shinning up the hill. The artist portrayed herself as the figure to the centre right of the foreground. According to Eileen Palmer the Flood water was modelled on Clapham Common.

A squared watercolour for `The Deluge' is in the College Art Collections, University College London (Palmer Gift no. 73), together with two early compositional studies on tracing paper (Palmer Gift no. 76/77). The Cartoon for the picture was sold at Christie's, 14 October 1987, (lot 1 z9) and is now in the collection of the Mitchell Wolfson Jr. Museum of Decorative and Propaganda Art, Miami, Florida.