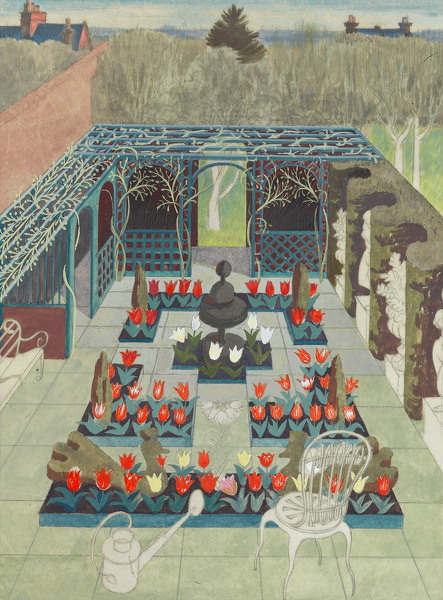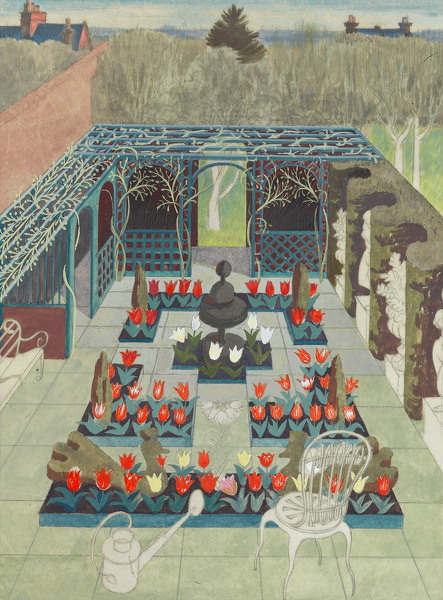 Hover over the painting to magnify (there may be an initial delay while the magnified image is loaded)
Dorothy Mahoney (1902-1984):
Walled Garden Amongst Kentish Orchards, early 1950's
Framed (ref: 2640)

mixed media on vellum,
7 1/2 x 5 1/2 in. (19 x 14 cm)

See all works by Dorothy Mahoney ink watercolour design flowers TOP 100 1.Master Designs Garden Museum RCAGardenMusuem WOMEN A Hanging Garden World War One and its Aftermath
Provenance: The Artist's Family
Dorothy Mahoney (ne Bishop) entered the RCA School of Design in 1924 with Book Illustration as her principal subject. From 1926-28 she took lettering and illumination as her principal subject under Edward Johnston, to whom, during this period, she became student-assistant. Her subsidiary subjects were wood engraving, pottery, bookbinding and embroidery. It is likely that this rare un- numbered wood engraving dates to this period.
In 1929 she was appointed Deputy Assistant to Edward Johnston, giving lectures, demonstrations, and classes in his absence.
In 1940 when the RCA was evacuated to Ambleside in the Lake District she became better acquainted with fellow teacher Charles Mahoney whom she married the following year.

Both had in common an unbridled enthusiasm for plants - a passion which before the war Mahoney had shared with Edward Bawden, Geoffrey Rhoades, John Nash and Evelyn Dunbar, the latter with whom he published Gardener's Choice in 1937. The correspondence between this circle is full of exchanges about the discovery, nurturing and drawing of new potential subjects facilitated by sending to each otherplant cuttings sent by post.

Oak Cottage, in Wrotham Kent, where Dorothy and Charles lived after the war and for the rest of their lives, was a source of immense inspiration for both artists. Once the garden that they planted had matured Charles especially rarely went elsewhere for inspiration.

This design shows a walled garden amongst Kentish orchards such as those around her home in Wrotham. This piece may have been inteneded as the frontispiece for a book to be written in collaboration with her husband Charles Mahoney. Her skill in illumination and penmanship is shown in the precise delineation of the tulip petals.


A small selection of her work is on display at The British Museum.

Elizabeth Bulkeley, the artist's daughter, ( note to Paul Liss December 2010).


Exhibited: Sanctuary, Artist-Gardeners, 1919-39, Garden Museum, London, 25th February – 5 April, 2020
Literature: Christopher Woodward, Sanctuary: Artist-Gardeners, 1919–1939, published by Liss Llewellyn, 2020