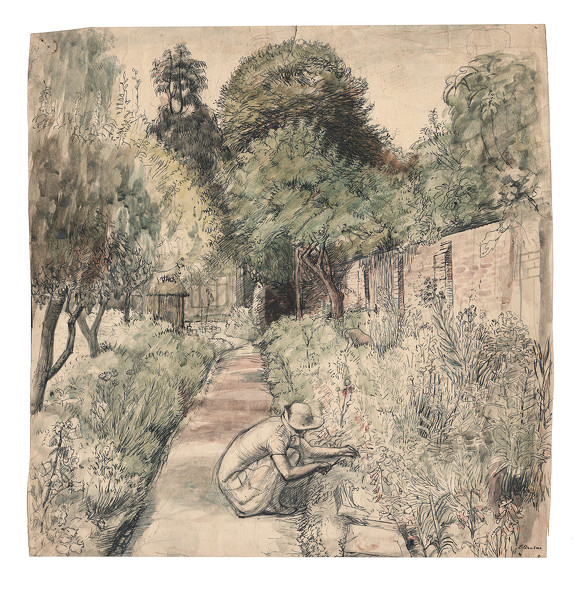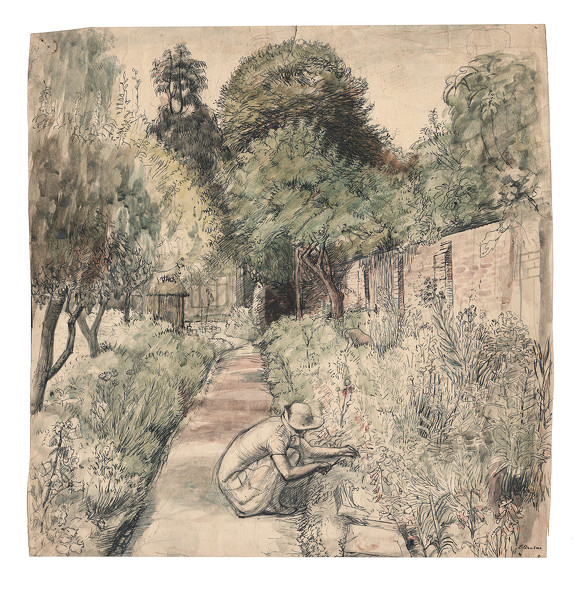 Hover over the painting to magnify (there may be an initial delay while the magnified image is loaded)
Evelyn Dunbar (1906-1960):
The Herbaceous Border at The Cedars c.1934 (HMO 68)
Unmounted (ref: 6678)
Signed
Pencil, pen & ink and watercolour on paper
15 1/2 x 15 in. (39.5 x 38 cm)
See all works by Evelyn Dunbar ink pencil watercolour leisure Dunbar catalogue
Provenance: Roger Folley; Alasdair Dunbar; Hammer Mill Oast Collection
Exhibited: Evelyn Dunbar - The Lost Works, Pallant House Gallery, October 2015 - February 2016, cat no 7.
Literature:
Evelyn Dunbar -
The Lost Works
, Sacha Llewellyn & Paul Liss, July 2015,
cat. 7,
page 40.
If they are not actually portrayed, the figures tending the herbaceous border are likely to be based
on the artist's sisters Marjorie (foreground) and Jessie (almost hidden in the middle ground). The
buttressed brick wall often features in Dunbar's pictures of The Cedars garden, while beyond the
summer house, seen from the front in CAT 2 and 3, the sitting room window is evident. This large
window is seen from the inside in A Knitting Party (CAT 126). In the later 1920s and 30s.
The Cedars
garden was a constant source of delight and inspiration for Dunbar.