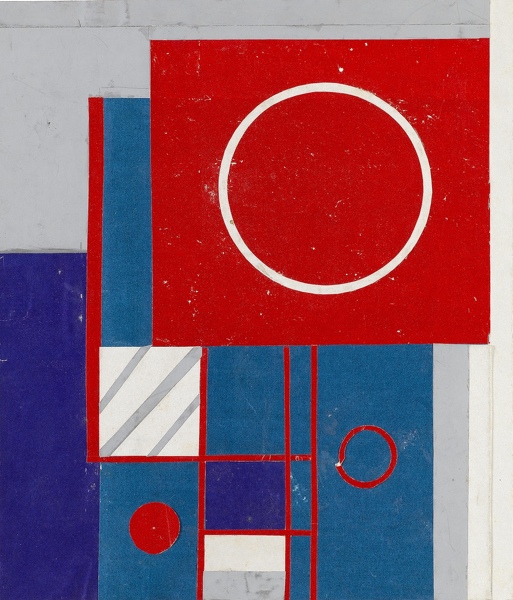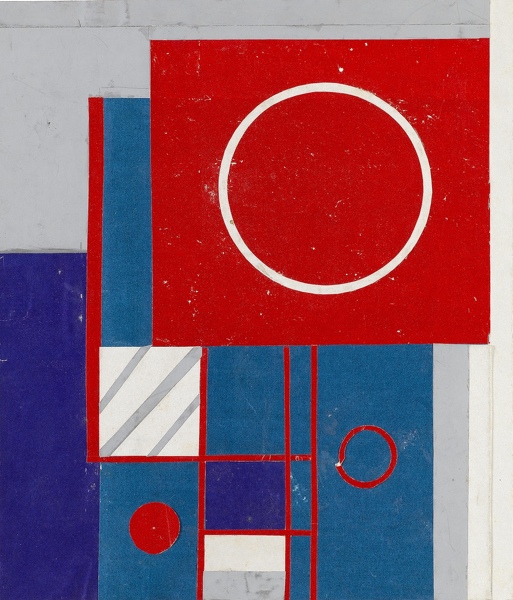 Hover over the painting to magnify (there may be an initial delay while the magnified image is loaded)
Kathleen Guthrie (1905 - 1981):
Original Design for White, Red and Blue Circles in Square, c. 1939
Framed (ref: 699)

Paper collage and paint
9 1/2 x 13 in. (24 x 33 cm.)
See all works by Kathleen Guthrie collage/photomontage Canney and Abstract Art TOP 100 1.Master Designs 2.50 50 PART TWO WOMEN 37 works from the studio of Kathleen Guthrie (1905-1981)
Provenance: The Artist's Studio
It is likely that this collage dates to the late 1930's when Kathleen Guthrie met John Cecil Stephenson (1889- 1965), whom she married in 1941.
At this time, the influence of the Circle group - whose activities centred on the Mall Studio's where Stephenson lived - were still potent. Although Ben Nicholson and Barbara Hepworth moved to Cornwall in 1939, Henry Moore replaced them as Kathleen's immediate neighbour (taking over the lease at no. 7 Malls Studios) and Piet Mondrian became a regular visitor, living during most of the year in Parkhill Road.
Alexander Calder had also been a frequent guest to Guthrie and Stephenson's studio between 1938-39, and one of his mobiles, acquired by the pair, remained hanging in their space.