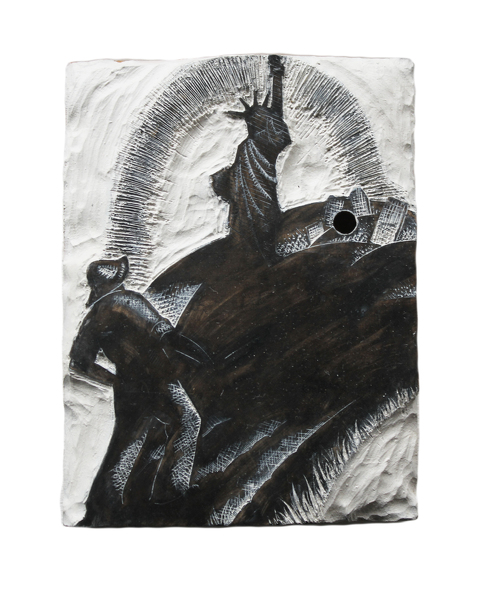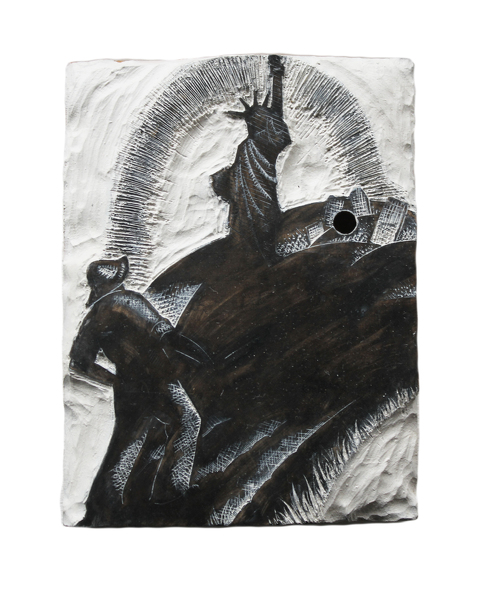 Hover over the painting to magnify (there may be an initial delay while the magnified image is loaded)
Clare Leighton (1898-1989):
Farmer and Statue of Liberty
Framed (ref: 7098)
Original woodblock (unfinished), cancelled
4 x 2.8 in. (10.2 x 7.2 cm)
See all works by Clare Leighton woodblock farms/domestic animals men 1.Master Designs
Provenance: The Artist's Estate
Having previously made several lecturing tours of the United States in the 20's and early 30's, Leighton moved to America at the outbreak of World War II, and in 1945 became an American citizen. A teaching position at Duke University in 1943 brought her into contact with Professor Frank C. Brown's pioneering effort to collect North Carolina folklore. Eventually, the project grew to seven published volumes, all of which Leighton illustrated. She received many honours and awards in America, but maintained strong links with England, representing Britain at the Venice Biennale as a superlative engraver.
New York is the setting for one of Leighton's most famous prints, 'Bread Line, New York', 1932. A copy of the work (image below) is part of the collection of the Smithsonian American Art Museum.
'Farmer and Statue of Liberty' is thought to have been produced for Clare Leighton's 'Growing New Roots', 1976.