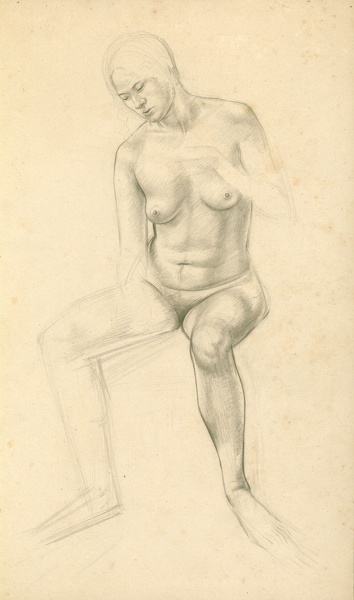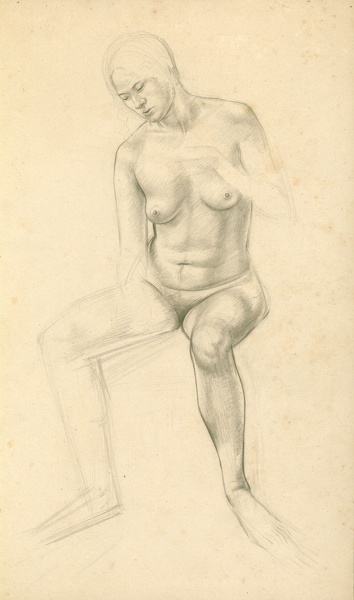 Hover over the painting to magnify (there may be an initial delay while the magnified image is loaded)
Winifred Knights (1899-1947):
Life drawing, nude three-quarter view, circa 1920
Framed (ref: 7279)
Pencil
14 1/2 x 8 1/2 in. (37 x 21.5 cm.)
See all works by Winifred Knights pencil life drawing women 1.PORTRAIT OF AN ARTIST
Provenance: The Artist's Family; Private collection.
This life study probably relates to the seated study of Eileen Knights entered for the Rome Scholarship, 1920, with which Knights became the first woman to win a Scholarship in Decorative Painting to the British School at Rome.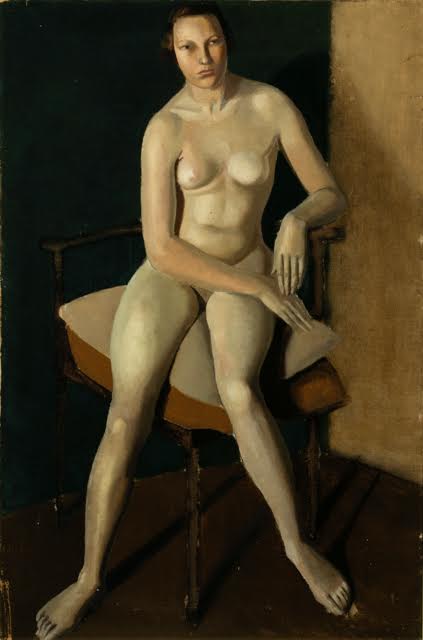 Life Study, Eileen Knights, oil on canvas, 1920 UCL Art Museum,
University College London.
Lessons in anatomy were a central feature of Slade training. Knights attended the lectures given by Professor George Dancer Thane,
Knights' youngest sister Eileen was a willing sitter and would subsequently act as a model in many compositions. Knights submitted this painting for the first round of the Rome Scholarship competition to fulfil the requirement of ' a figure from the life in oil'. Using her mother's cutting-out scissors, Knights cut her 14-year-old sister's hair short to allow the full force of daylight to fall on the flesh, provoking indignation from her father.