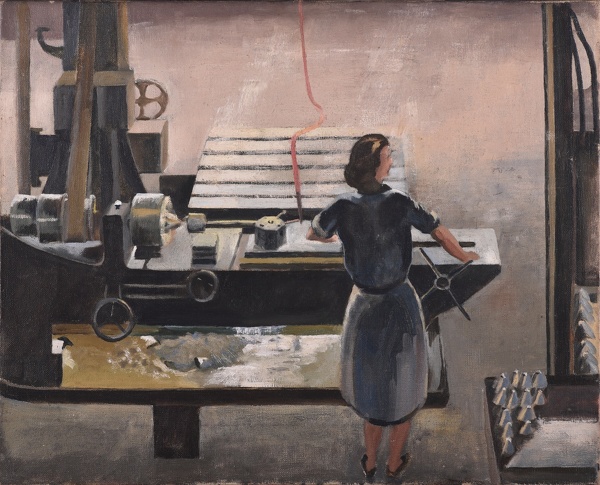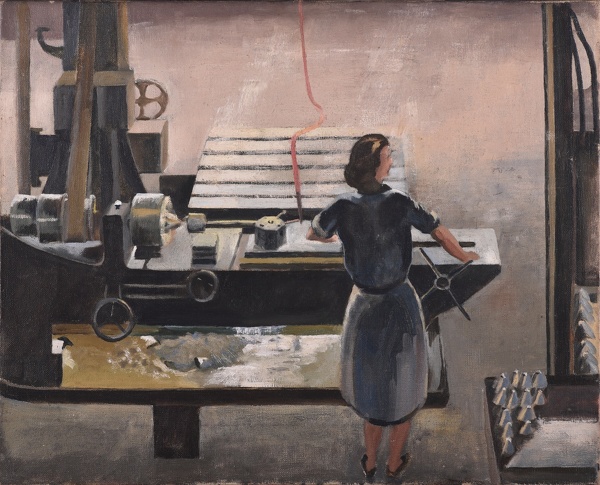 Hover over the painting to magnify (there may be an initial delay while the magnified image is loaded)
Isobel Atterbury Heath (1908-1989):
Woman operating a lathe turning the fuse tips of munitions, c.1944
(ref: 7954)
Oil on canvas
16 ¼ x 20 in. (41.2 x 51 cm)
See all works by Isobel Atterbury Heath oil war women work World War II Paintings by British Artists
Exhibited: WW2 - War Pictures by British Artists, Morley College London, 28 October -23 November 2016, cat 81.
Literature:
WW2 - War Pictures by British Artists, Edited by Sacha Llewellyn & Paul Liss, July 2016, cat 81, page 124.
This painting shows a woman operating a capstan lathe, turning the fuse tips of munitions. The material that is being turned is possibly aluminium because the lathe is flooded with coolant and the swarf appears to be granular and very white.
During WW2 Heath volunteered to work as an artist for Ministry of Information drawing and painting naval subjects and factory workers in Howton's munitions and camouflage factory at St. Ives and the Spitfire fighter station at Perranporth. She married an Italian prisoner of war, Dr Marc Prati – a political correspondent for the Italian newspaper La Stampa, who had been interned in Cornwall.
By 1943 there were 7.25 million women engaged in war-related employment, the majority in agriculture, manufacturing and civil defence. Although recording the role of women was one of the stated aims of WAAC, the scheme nevertheless favoured images of women performing conventional roles – for instance the predominance of paintings of women as nurses in spite of the fact that in 1943 munitions workers outnumbered nurses by 100 to 1. Like other female War Artists, Heath delighted in showing women at work in some of the more unusual roles they performed during the war.