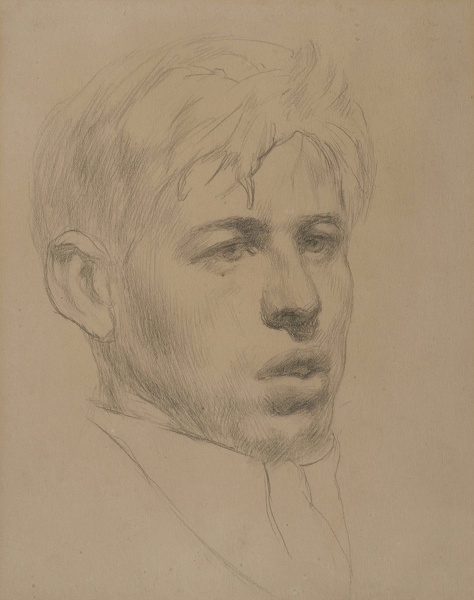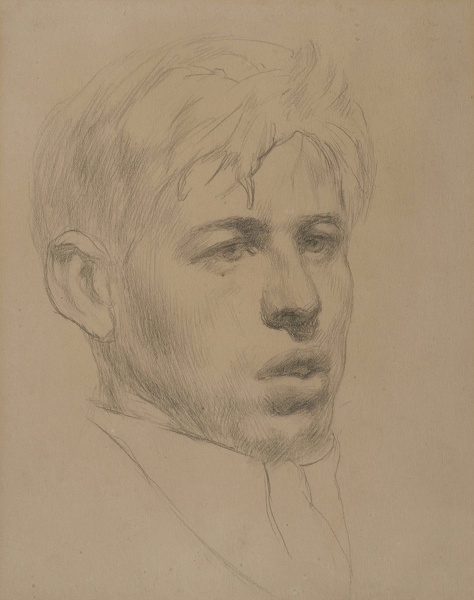 Hover over the painting to magnify (there may be an initial delay while the magnified image is loaded)
Hilda Carline (1889-1950):
Portrait of Gilbert Spencer, circa 1919
Framed (ref: 9272)

Pencil
17 3/4 x 11 8/10 in. (45 x 30 cm)
See all works by Hilda Carline pencil illustration men portraits 1.Master Drawings 1.PORTRAIT OF AN ARTIST
Provenance: The Artists Daughter; thence by descent
It was while studying at the Slade School of Fine Art (1918–1922) under Henry Tonks that Hilda Carline met Gilbert Spencer. Gilbert was the younger brother of Stanley, whom she went on to marry in 1925. Gilbert was born on 4 August 1892 and was the eighth son and youngest of eleven children. A talented painter himself, he was noted for his landscapes, was a member of the New English Art Club, and held his first solo exhibition at the Goupil Gallery in 1923.
Before she began her studies at the Slade, Hilda attended – along with her brothers Sydney and Richard Carline – Percyval Tudor-Hart's School of Painting in Hampstead. Tudor-Hart had a profound influence on the three siblings and there is discernible evidence of his avant-garde teaching style in all their work. Tudor-Hart's experimental methods and advanced theories on colour and its effect on the emotions informed Hilda's work and marked the beginning of a productive period in her artistic career.
This drawing was probably made around 1919, at the time when Carline had just started a part-time five-year training at the Slade School of Fine Art.
We are grateful to Hermione Carline and Jackie Naffah for providing this commentary.