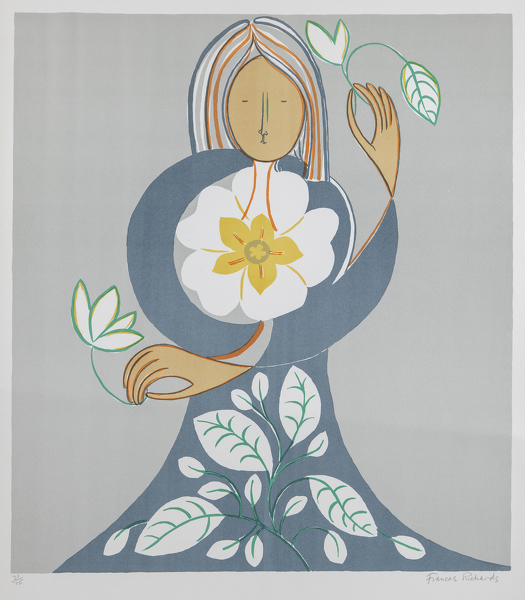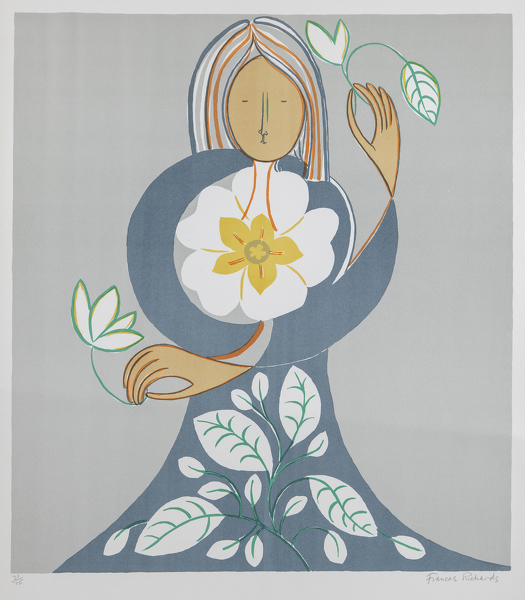 Hover over the painting to magnify (there may be an initial delay while the magnified image is loaded)
Frances Richards (1903 - 1985):
Hieratic Floral Figure, 1974
Unmounted (ref: 10583)

Signed, numbered and dated,
Lithograph, printed by the Merivale Press
22.9 x 20.4 in. (58.1 x 51.8 cm)
See all works by Frances Richards lithograph flowers women
Provenance: Margaret Pond, and thence by descent
Literature: Llewellyn, Sacha, et al. Women Only Works on Paper. Liss Llewellyn, 2021, p. 88.
Frances Richards was a multi-talented artist working variously as a painter, draughtswoman, fresco artist, potter, embroiderer, sculptor, teacher and poet. Soon after completing her scholarship at the Royal College of Art in 1930, Richards received her first professional commission when Stanley Morison, the founder of the Monotype Corporation, asked her to provide a series of lithographs inspired by The Twelve Acts of the Apostles. With their clean and delicate lines and touching evocation of mood and atmosphere, these early works are characteristic of the simple lyricism that would define Richard's graphic art and would still be in evidence half a century later in compositions such as Hieratic Floral Figure.
Throughout her life Richards' had a deep love of poetry and was particularly affected by the visionary symbolism of Arthur Rimbaud. The year after producing Hieratic Floral Figure she executed a set of lithographs, published by the Curwen Press, inspired by Rimbaud's Les Illuminations which were first published in 1886. Depicting figures in dream-like landscapes, the illustrations reveal the artist's love of early Renaissance painting, in particular the work of Fra Angelico.
A copy of this lithograph, in its final state, is in the collection of Tate.