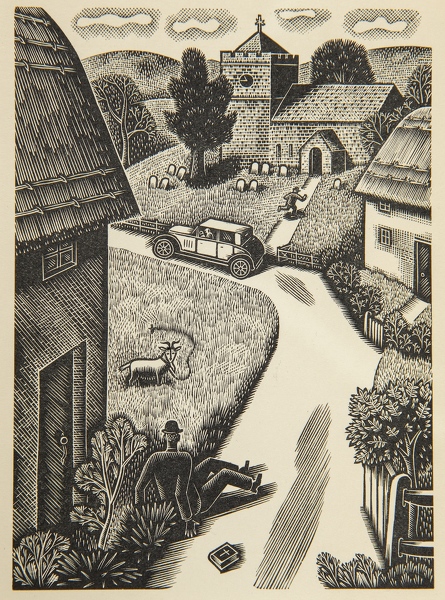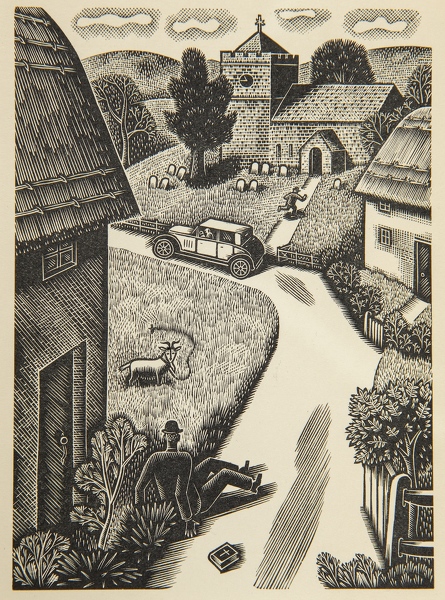 Hover over the painting to magnify (there may be an initial delay while the magnified image is loaded)
Gwenda Morgan (1908-1991):
The Rev. Humble Arrives at Church
Unmounted (ref: 11142)

Wood engraving
5.6 x 4.7 in. (14.2 x 12 cm)
See all works by Gwenda Morgan print woodcut women
Provenance: The Artist's Studio
Literature: Llewellyn, Sacha, et al. Women Only Works on Paper. Liss Llewellyn, 2021, p. 52.
After studying Goldsmiths' College of Art in London from 1926, from 1930 she attended the Grosvenor School of Modern Art where she was taught and strongly influenced by Iain Macnab. The Grosvenor School was a progressive art school, and the championing of wood engraving and linocuts fitted with its democratic approach to the arts.The main body of her work drew upon the landscape and buildings around Petworth and the neighbouring South Downs. Her work was inspired by that of Iain Macnab, Percy Douglas Bliss and the Sussex-bred Eric Ravilious.
Throughout the Second World War she worked in the Women's Land Army just outside Petworth. Her record of those years was published by the Whittington Press in 2002 as The Diary of a Land Girl, 1939-1945. It is a poignant record of the determination to carry on whatever the weather or wartime deprivations.
She was a Fellow of the Royal Society of Painter-Etchers & Engravers, an Honorary Member of the Society of Wood Engravers, and a Member of the National Society of Painters, Sculptors and Engravers, and she showed work at their annual exhibitions. She also exhibited at the Royal Academy and at the Redfern Gallery.
Her prints are held in the collections of the Victoria and Albert Museum and the British Museum in London, the Ashmolean Museum in Oxford, and the Fitzwilliam Museum in Cambridge, among others.
We are grateful to Fishink for assitance.