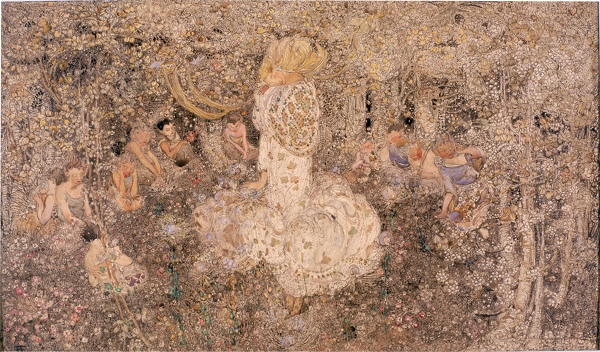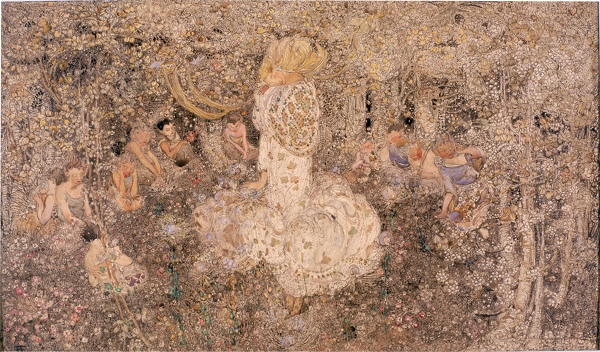 Hover over the painting to magnify (there may be an initial delay while the magnified image is loaded)
Annie French (1873–1965):
The Lady under Enchantment, c. 1905
Unmounted (ref: 11155)

Watercolour, pen and ink
Signed with monogram
12 x 15.8 in. (30.5 x 40.2 cm)
See all works by Annie French pen and ink watercolour illustration
Provenance: The Artist's Studio
Literature: Llewellyn, Sacha, et al. Women Only Works on Paper. Liss Llewellyn, 2021, p. 25.
Fairies frequently featured as the subject of Annie French's work. The highly patterned nature of this piece indicates her interest in romantic and decorative imagery. The intricate details of her paintings were achieved through a combination of fine dots, hatching, and lines. Despite the small scale of her works, French's distinctive style gained her recognition at the Royal Academy. She had studied at the Glasgow School of Art and subsequently taught ceramic decoration there, from 1908 to 1912. French was also associated with the Glasgow School group of artists, whose Art Nouveau-inspired work stood in opposition to the historical and neo-classical styles which predominated in the Academies. The group promoted the idea that art and design should be an integral part of daily life. The precise dating of French's work is difficult because her signature style changed little during the course of her career.
'Pen and ink' is a drawing technique involving the use of black and other coloured inks where a fine line, as opposed to a broad line (such as achieved with charcoal and pastel), is sought. It was especially favoured as a medium for producing intricate designs.