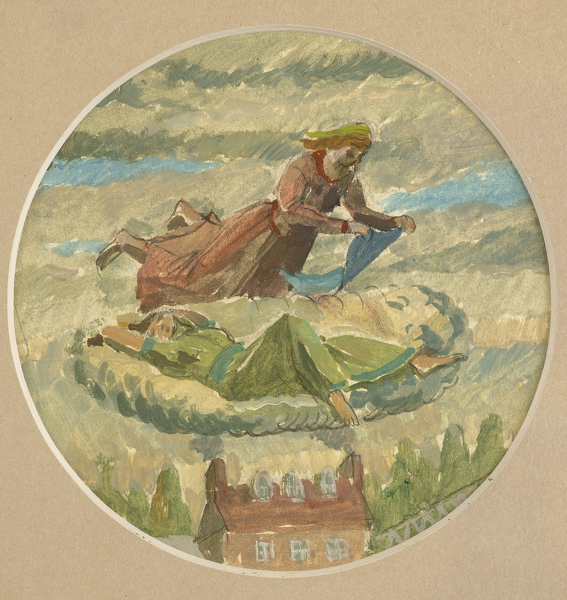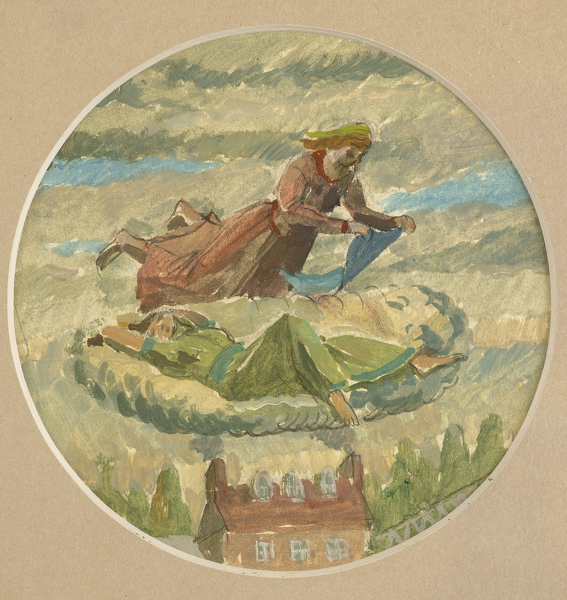 Hover over the painting to magnify (there may be an initial delay while the magnified image is loaded)
Evelyn Dunbar (1906-1960):
Industry and Sloth, c.1932
Framed (ref: 11180)
Oil on paper 6 x 6 in. (15.2 x 15.2 cm)
See all works by Evelyn Dunbar oil women 1.PORTRAIT OF AN ARTIST 2.dunbar 2022
Provenance: The Artist's Studio; thence by descent
Literature: Llewellyn, Sacha, and Paul Liss. Portrait of an Artist. Liss Llewellyn, 2021, p.381.
In late 1932 Dunbar volunteered for an ambitious mural project at Brockley School for Boys, in south-east London. The projected was to be led by Cyril Mahoney (almost universally known as 'Charles' or 'Charlie'), Dunbar's mural tutor at the Royal College of Art. Two other recent RCA graduates joined the team, initially to decorate five arched and recessed panels in the assembly hall with illustrations based on Aesop's fables. In early 1933 Dunbar and Mahoney fell in love. Partly to prolong the joy of working together, Dunbar volunteered to extend the programme to include other areas, including the ceiling beneath a gallery at one end of the hall. The central ceiling was to feature 'the four winds of Hilly Fields' (Hilly Fields was - and is - the parkland on which the school stands), but before the design could be finalised Mahoney abandoned the project, leaving some grisaille designs surrounding the roundels in which Dunbar would paint 'the four winds'. On her own from June 1935 until the murals were inaugurated in February 1936, Dunbar abandoned the winds in favour of her own designs of goddesses (Juno and Minerva) rubbing shoulders personifications of virtuous and not-so-virtuous qualities (Genius, Virtue and Reputation and, as in the designs above, Industry and Sloth.) The design evolved over time from the sketch to the finished version, but in both Sloth is asleep while Industry gets on with things.
We are grateful to Christopher-Campbell Howes, author of Evelyn Dunbar: A Life in Painting, for the above text.