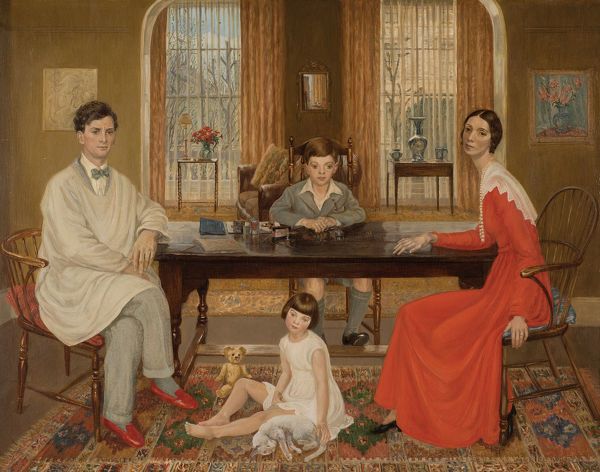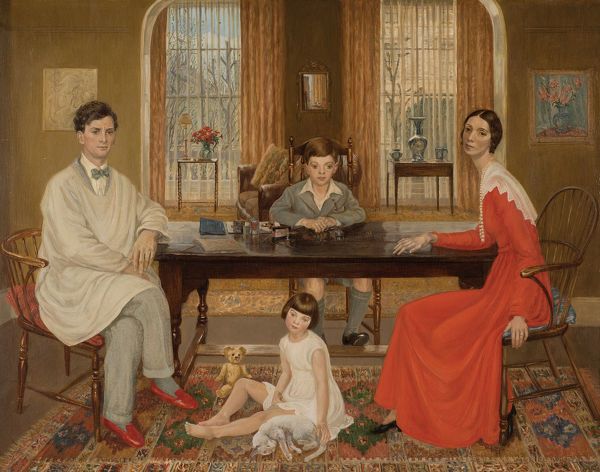 Hover over the painting to magnify (there may be an initial delay while the magnified image is loaded)
Muriel Wheeler (1888-1979):
Self and Family, 1933
Framed (ref: 11227)

Signed and dated
Oil on panel
21.8 x 27.9 in. (55.3 x 70.8 cm)
See all works by Muriel Wheeler oil panel children interiors men women 1.PORTRAIT OF AN ARTIST
Provenance: Oil on panel
Literature: Llewellyn, Sacha, and Paul Liss. Portrait of an Artist. Liss Llewellyn, 2021, p.112.
Exhibited: The Royal Academy of Arts, 1933, as Portrait Group (392); The Royal Society of Portrait Painters, (date unknown); The Fine Art Soceity, Modern British Women, 2017, (no 24)
Although Muriel Wheelers focus had changed to sculpture from 1925 onwards this accomplished family group dates to 1933, It includes portraits of her children Robin and Carol and her husband Charles (later Sir Charles, PRA) who is shown wearing an artists smock. The setting is the dining room of the family home 21 Tregunter Road, in South Kensington, London.