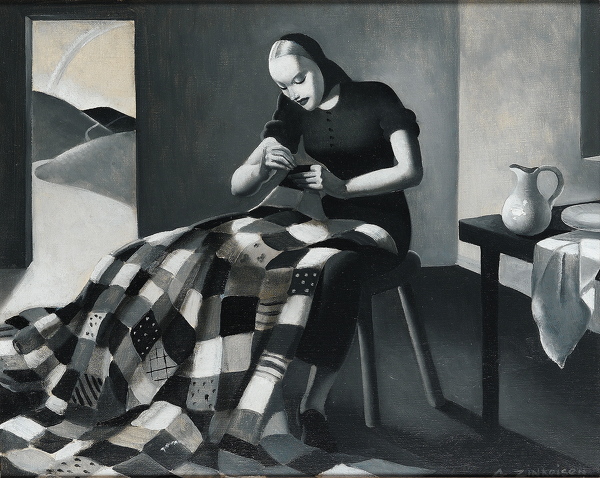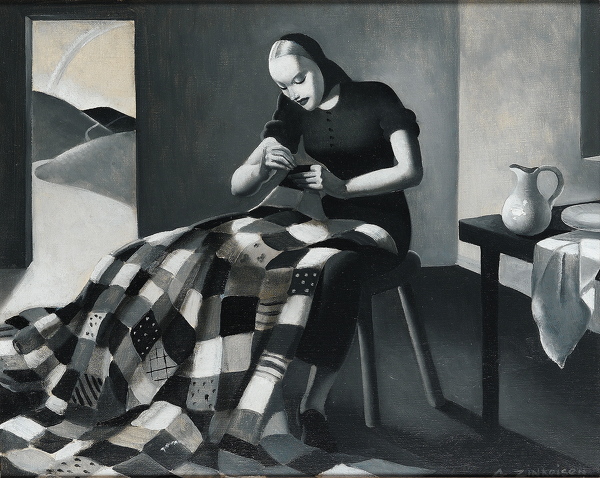 Hover over the painting to magnify (there may be an initial delay while the magnified image is loaded)
Anna Zinkeisen (1901-1976):
All the Colours of the Rainbow, 1942
Framed (ref: 179)

Oil on canvas
Signed
16 x 20 in. (40.5 x 50.8 cm.)

See all works by Anna Zinkeisen oil Fifty Works by Fifty British Women Artists 1900 - 1950 WOMEN
Provenance: ICI Corporate Collection until 2002 (commissioned from the artist by ICI 1930); Collection of Rose Grimond
The title of this work is a striking contradiction to its stark monochrome reality. Anna Zinkeisen's work of this period, the years of the Second World War, is deep and darkly exciting. Quite different from her earlier work as a rising young talent of the interwar years. By 1920, after studying sculpture at the Royal Academy Schools, she was winning prestigious awards and receiving professional assignments. She was also beautiful, fashionable and a great socialite. Along with her equally glamorous artist sister, Doris, she was the talk of the town by the 1930s.
The war changed Anna deeply: the years spent as an emergency ward nurse at St Mary's Hospital Paddington brought her into contact with the anatomy of body and pain. In her spare time she painted in an improvised studio in an operating theatre, and on behalf of the Royal College of Surgeons she documented the physical damage of the Blitz by sketching crushed limbs and desperate surgeries.
All Colours of the Rainbow on the other hand was a commercial work for Imperial Chemical Industries. As part of a team of creatives, she was asked to document the work of the company. Although this painting was ultimately created to promote the production of chemical dyes, it is about so much more. The young woman in a simple dress and headscarf finds a quiet moment to stitch her patchwork; we can only imagine the infinite colours of the fragments of fabrics and the fleeting memories just perceptible across her face. She is reminiscent of a Tuscan Quattrocento Madonna. I am quite sure this was Anna's message: one of deep spirituality, humbleness and – with the view out onto the rolling hills – hope for a better future.
Commentary by Virginia Hill, dress historian and curator who lectures in Milan, Florence and Rome and consults for private and public collections of dress. Her upcoming exhibition Giovanni Boldini e la Moda will be at Palazzo dei Diamanti, Ferrara, Italy.