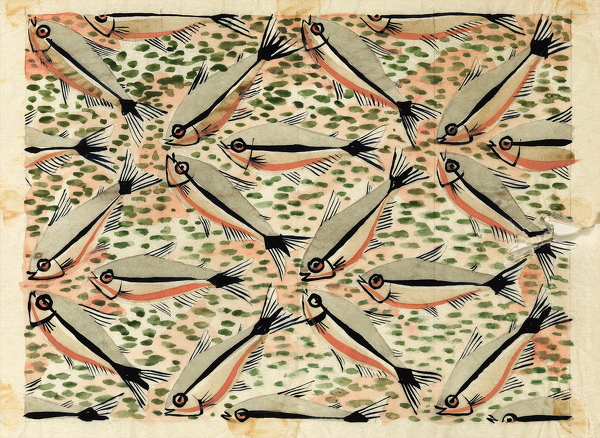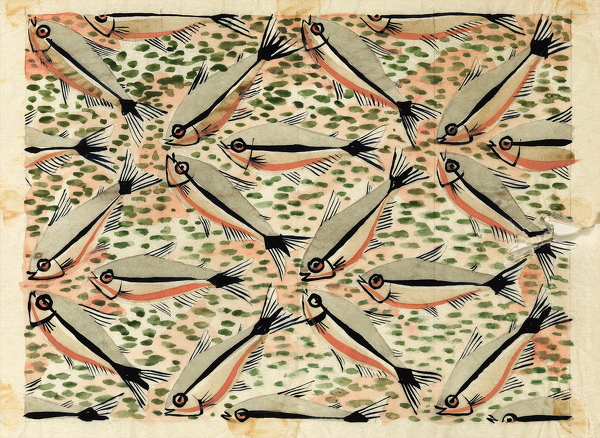 Hover over the painting to magnify (there may be an initial delay while the magnified image is loaded)
Dorothy Mahoney (1902-1984):
Design for Screen Print on Silk, Dress Fabric, mid 1920's
Unmounted (ref: 2639)

Inscribed and titled
Watercolour, 5 1/2 x 7 in. (14 x 18 cm.)
See all works by Dorothy Mahoney watercolour design Golden Generation RCA
Provenance: The Artists Daughter; thence by descent
Dorothy Mahoney (ne Bishop) entered the RCA School of Design in 1924 with Book Illustration as her principal subject. From 1926-28 she took lettering and illumination as her principal subject under Edward Johnston, to whom, during this period, she became student-assistant. Her subsidiary subjects were wood engraving, pottery, bookbinding and embroidery. It is likely that fabric design dates to this period.
In 1929 Dorothy Bishop was appointed Deputy Assistant to Edward Johnston, giving lectures, demonstrations, and classes in his absence.


A small selection of her work is on display at The British Museum

DM enjoyed using a pen for drawing as well as lettering. These lively fish are a good example of her skill in penmanship applied to drawing. Elizabeth Bulkeley, the artist's daughter, ( note to Paul Liss December 2010).