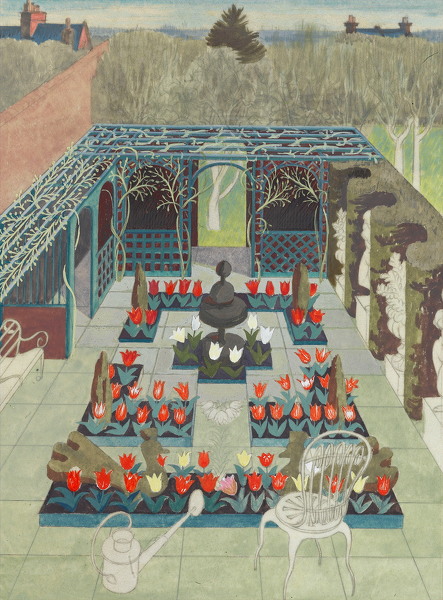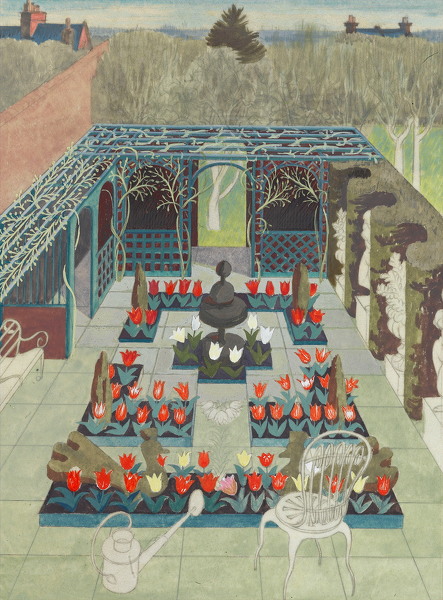 Hover over the painting to magnify (there may be an initial delay while the magnified image is loaded)
Dorothy Mahoney (1902-1984):
Walled Garden Amongst Kentish Orchards, early 1950's
Framed (ref: 2640)

mixed media on vellum,
7.5 x 5.5 in. (19 x 14 cm)
See all works by Dorothy Mahoney ink watercolour design flowers TOP 100 1.Master Designs Garden Museum RCAGardenMusuem WOMEN A Hanging Garden World War One and its Aftermath
Provenance: The Artist's Family
Exhibited: Sanctuary, Artist-Gardeners, 1919-39, Garden Museum, London, 25th February – 5 April, 2020
Literature: Christopher Woodward, Sanctuary: Artist-Gardeners, 1919–1939, published by Liss Llewellyn, 2020
Llewellyn, Sacha, et al. Women Only Works on Paper. Liss Llewellyn, 2021, p. 73.
Dorothy Mahoney (née Bishop) entered the School of Design at the Royal College of Art in 1924 with Book Illustration as her principal subject. From 1926-28 she also took classes in lettering and illumina- tion with Edward Johnston, to whom she became student-assistant. Students were encouraged to copy early English manuscripts from the golden age of calligraphy. This page is copied from the English 14th century Queen Mary Psalter, the original of which is in the British Museum but the facsimile made in 1912 is held in the Victoria and Albert Museum next to the Royal College of Art. Mahoney's book, The Craft of Calligraphy (1982) was, and remains, one of the standard reference works on the subject.
In Walled Garden Amongst Kentish Orchards, Mahoney's skill in illumination and penmanship is shown in the precise delineation of the tulip petals and trellis work.