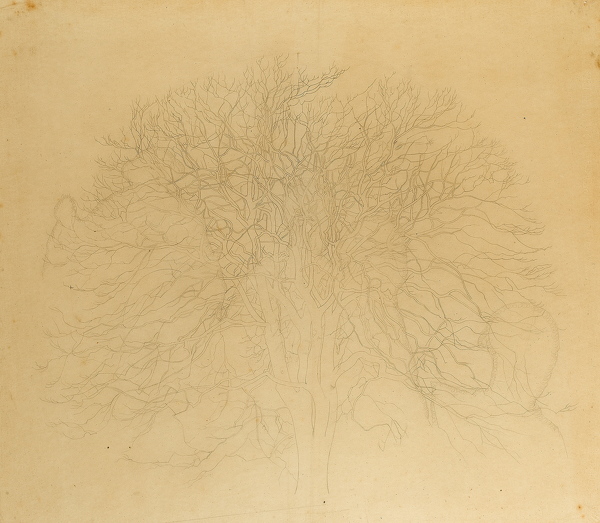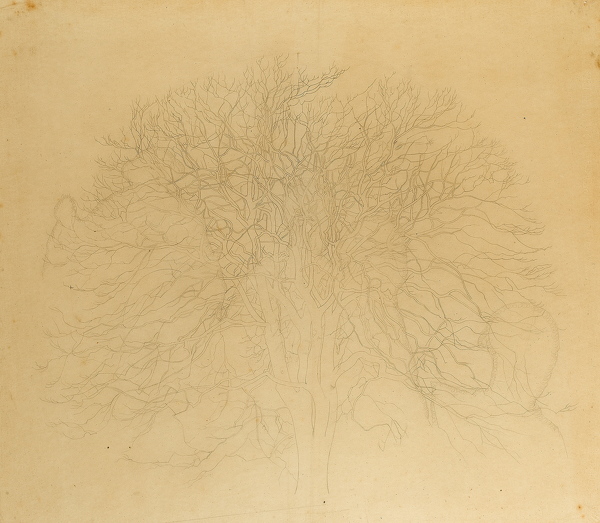 Hover over the painting to magnify (there may be an initial delay while the magnified image is loaded)
Winifred Knights (1899-1947):
Study for the background tree in St. Martin's, circa 1930
Framed (ref: 2829)

Pencil on tracing paper
43.4 x 49.4 cm
See all works by Winifred Knights pencil flowers landscape
Provenance: John Monnington up to 1996; Private collection; David Thomson 2009
Literature: G.K.A. Bell,The Church and the Artist, The Studio, September 1942, vol. 124,
no. 594, p. 81. Llewellyn, Sacha, Winifred Knights, Lund Humphries 2016

Exhibited: Dulwich Picture Gallery, 2016

In a gilded flat section frame, with square outer moulding, glazed

Knights was commissioned to paint the Milner Memorial altarpiece for Canterbury Cathedral in 1928; she finished it some five years later in 1933. It was to be the last major work completed by Knights.

Bishop Bell, who was involved with commissions for religious works from numerous artists (including Vanessa Bell, Duncan Grant, Augustus Lunn and Hans Feibusch), described the St Martin Altarpiece as one of the most lovely, delicate and deeply felt modern religious paintings that I know. (G.K.A. Bell,The Church and the Artist, The Studio, September 1942, vol. 124, no. 594, p. 81).