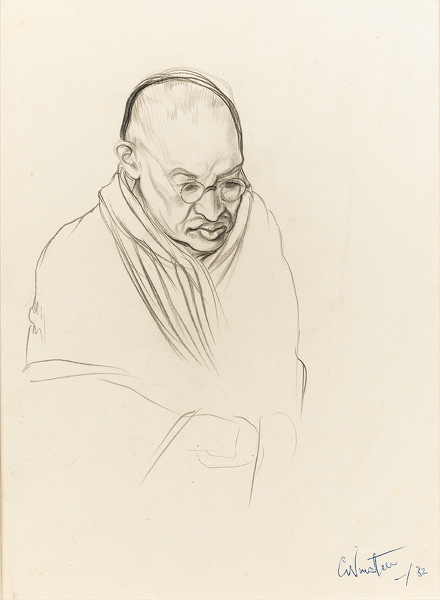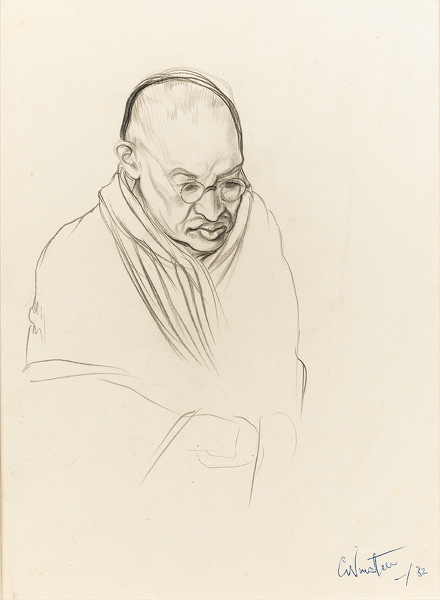 Hover over the painting to magnify (there may be an initial delay while the magnified image is loaded)
Clare Winsten (1894 - 1989):
Portrait of Gandhi, 1931
Framed (ref: 4245)

Signed
Pencil, 7 3/8 x 5 1/8 in. (18.8 x 13 cm.)
See all works by Clare Winsten pencil men portraits
In a fine gilded oak slip with square section outer moulding
Provenance: Theodara Winsten, the artist's daughter.
Literature: Whitchapel At War: Isaac Rosenberg & His Circle, Ben Uri Gallery, 2008
In 1931, during his time in London, Clare was given 'unrestricted access' to Mahatima Gandhi in order to execute his portrait. According to Gombrich, Gandhi was so pleased with the final result 'that he took hold of her brush and signed his name in oil colour',
Sarah MacDougal, Whitchapel Girl, chapter 7 of Whitchapel At War: Isaac Rosenberg & His Circle, Ben Uri Gallery, p 114
This is the finest in a series of portraits that Winsten made of Gandhi when she made his acquaintance in Hampstead during Gandhi's celebrated trip to England in 1931. Unlike so many portraits of Gandhi which were taken from photographs Winsten had the privilege of meeting Gandhi in person.
My parents life-time active involvement in social, humanitarian causes, as well as the arts, brought them into touch with likeminded people from many spheres. This affinity produced portraits of, among others, D.H.Lawrence, Montessori, Catherine Lonsdale, Mahatma Gandhi, Bernard Shaw.... My parents first met Mahatma Gandhi in the 1930s when living at Hampstead (and this) led to a remarkable series of paintings and drawings. There was such an empathy between them that Clare was invited to be there .....whenever she wanted.