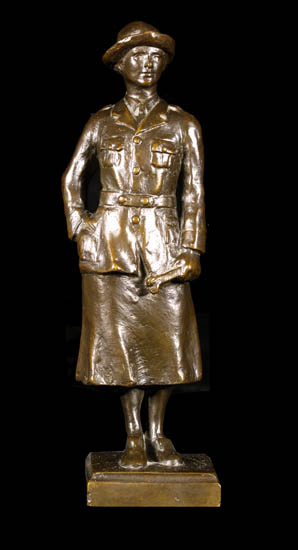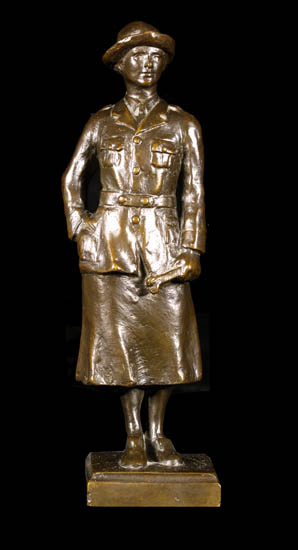 Margaret Wrightson (1877-1976):
Mechanic: Women's Auxiliary Army Corps, 1917
None (ref: 5352)

Signed and dated 1917
Bronze
25.4 x 10.1 cm
See all works by Margaret Wrightson bronze sculpture war women Fifty Works by Fifty British Women Artists 1900 - 1950 No Mans Land WOMEN Works for Paris WW-1 Paintings
Provenance: David Cohen Fine Art; Private Collection
Little is known about the circumstances of the production of this charming small bronze figure of a member of the Women's Army Auxiliary Corps (WAAC). Another example of it, with darker patination, is in the collection of the National Army Museum. It is thought to be a model for a full-size war memorial which was never realised.
In 1917, the War Office formed the WAAC to take on non-combat military roles, in order to free up more men to fight. The women worked in key support roles such as administrative and clerical duties, telephony, catering, storekeeping and as mechanics. The sitter for this sculpture would have worn a light khaki, single-breasted tunic with a cloth belt fastened by two buttons. Her skirt had to measure eight inches from the ground and she would have worn a regulation felt hat with the WAAC cap badge on the front. Coloured insets in her shoulder straps indicated the nature of her work. This figure, with a spanner in her hand, shows one of the mechanics who serviced and repaired military vehicles.
Unlike male soldiers, the women of the WAAC 'enrolled' rather than 'enlisted'. Their ranks were different too. Privates were termed 'workers', non-commissioned officers were 'forewomen' and officers were 'officials'. Some 7,000 WAACs served on the Western Front. In April 1918, in recognition of their valuable service, the WAAC was re-named Queen Mary's Army Auxiliary Corps (QMAAC). During the First World War, about 57,000 women served with the WAAC and QMAAC.From May 1917, Margaret Wrightson herself served as a worker in the WAAC and then the QMAAC.She served overseas before being medically discharged on 18 November 1918.
Commentary by Emma Mawdsley, Head of Collections Development and Review at the National Army Museum, where she has worked since 1993. She was responsible for curating the Society Gallery for the redeveloped museum, as well as a number of specialist exhibitions on military art.