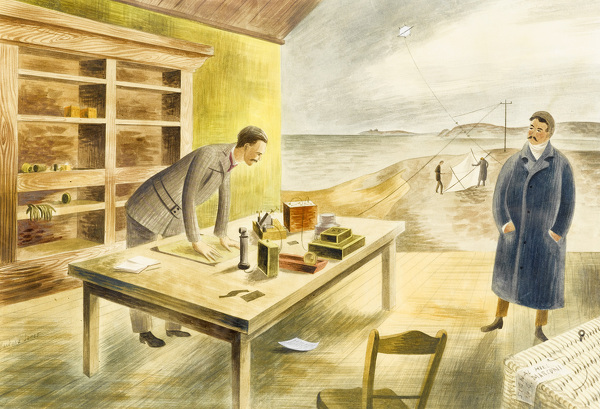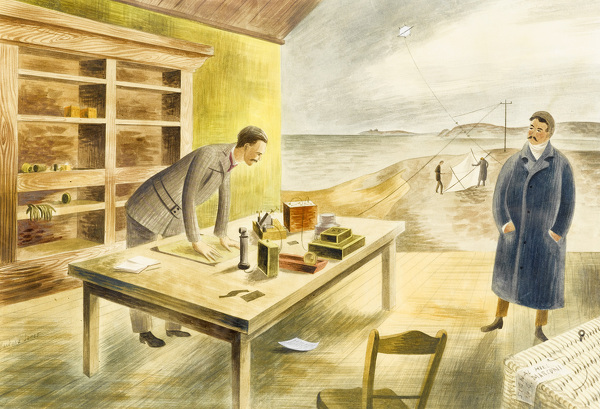 Hover over the painting to magnify (there may be an initial delay while the magnified image is loaded)
Barbara Jones (1912-1978):
Marconi Transmitting the First Radio Signals from Cornwall to Newfoundland, 1901
Framed (ref: 5804)

Signed, watercolour and pencil,
11.2 x 15.9 in. (28.5 x 40.5 cm)
See all works by Barbara Jones pencil watercolour men transport work 1.Master Designs 49 pictures Rediscovering Women Artist WOMEN
Provenance: Abbott & Holder Ltd, London; private collection
Literature: Ruth Artmonsky, A Snapper Up of Unconsidered Trifles, 2008 p115, 58 59
Literature: Llewellyn, Sacha, et al. Women Only Works on Paper. Liss Llewellyn, 2021, p. 84.
Barbara Jones particularly loved watercolour for its translucence and brilliance and its emotive evo- cation of place, qualities which are evident in Marconi Transmitting the First Radio Signals from Cornwall to Newfoundland, 1901(overleaf), one of 12 watercolours commissioned in 1950 by the Financial Times for a calendar titled 'A Half Century of Progress'. By the time she received this commission, Jones' reputation was already secure, having been one of the most admired – and certainly most prolific – of the contributors to the Recording Britain project, a collection of more than 1500 watercolours and drawings commissioned from artists to record British lives and landscapes during the Second World War.
In her book, Water-Colour Painting, A Practical Guide (1960), Jones was as much concerned with engaging the reader's delight with the medium as with giving instruction in technique: 'One day when you come in ... you will pour out a drink, light a cigarette, and sink into a chair, having painted a picture. Nothing in the world is like this sensation, peace and elation, God on the seventh day'.
The idea of commissioning Jones to do a mural for the Mount Pleasant sorting office in 1961 was probably inspired by the American Public Works Art Project which resulted in more than 1,200 murals being painted in post offices throughout the United States. This 3-metre long maquette is the largest record of the proposed mural – it is unclear whether this commission was ever realised.
The use of collage as a fine rather than a decorative art was one of the most significant innovations of the twentieth century, and is most associated with Picasso and Braque. The medium would have especially appealed to Jones, however, for its association with folk art. Through books such as 'The Unsophisticated Arts' (1951), she sought to blur the traditional boundaries between art, design and craft.