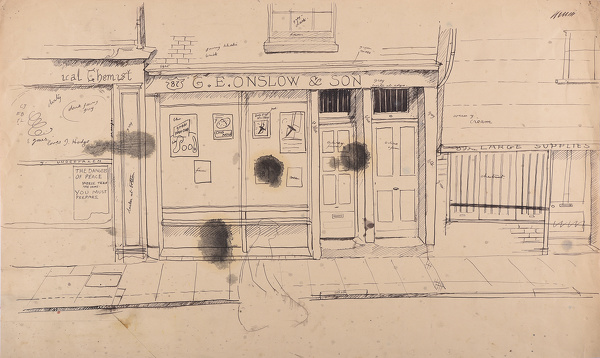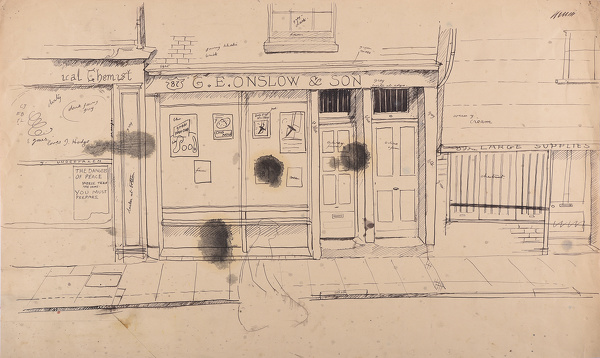 Hover over the painting to magnify (there may be an initial delay while the magnified image is loaded)
Evelyn Dunbar (1906-1960):
Study for the background to The Queue at the Fish Shop
Framed (ref: 7897)
Inscribed with colour notes.
Pen & ink on paper.
13 x 21 in. (33 x 53.3 cm)
See all works by Evelyn Dunbar ink architecture war World War II Paintings by British Artists Evelyn Dunbar at The Watts Gallery
Provenance: Roger Folley; Alasdair Dunbar; Hammer Mill Oast Collection
Exhibited: WW2 - War Pictures by British Artists, Morley College London, 28 October -23 November 2016, cat 107. Literature: WW2 - War Pictures by British Artists, eds Sacha Llewellyn & Paul Liss, July 2016, cat 107, page 151; Evelyn Dunbar: A Life in Painting, Christopher Campbell-Howes, October 2016, pages 285-291. The Queue at the Fish Shop, perhaps the best-known of Dunbar's war paintings and one of the most abiding images of wartime Britain, was, curiously, never a War Artists' Advisory Committee commission, although gladly accepted by them. It dates from Dunbar's 1942 engagement to Roger Folley, and the finished picture, now in the Imperial War Museum, can be seen in the light of Dunbar's commitment to her future husband. The sketch was made from the first floor of Dunbar's brother Ronald's household emporium in Strood High Street. Dunbar was obliged to reduce Hill's fish shop in height and to elongate it in order to accommodate the queue eventually painted in front of it. The fish shop and the adjacent properties were demolished in the 1960s to ease traffic congestion, although the original name, Angel Corner, survives. Christopher Campbell-Howes

We are grateful to Christopher Campbell-Howes for assistance.