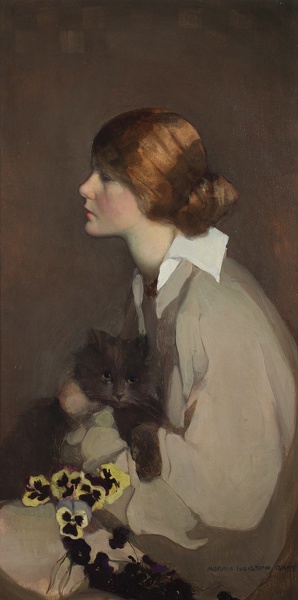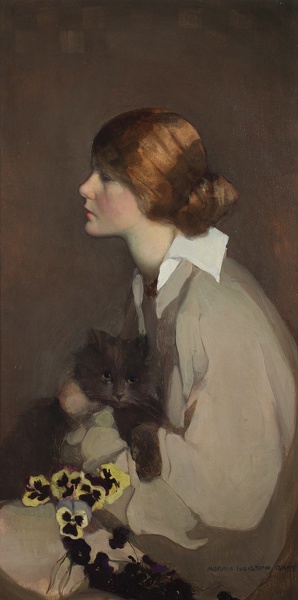 Hover over the painting to magnify (there may be an initial delay while the magnified image is loaded)
Norah Neilson Gray (1882-1931):
Young Woman with Cat, circa 1928
Framed (ref: 8007)


Oil on canvas
Signed
39 x 20 in. (99.0 x 50.8 cm)
See all works by Norah Neilson Gray oil Portrait flowers women Fifty Works by Fifty British Women Artists 1900 - 1950 WOMEN The Alan M. Fortunoff Collection
Provenance: The Fortunoff collection [HF27]; Private collection
I was not properly introduced to Norah Neilson Gray until a few years ago, during the course of my 'B' job on the Antiques Roadshow at Kelvingrove in Glasgow, where I valued a really lovely painting of hers from the 1930s and fell in love with her work. You might say that she was a local artist, for she was born in Helensborough nearby and became one of the 'Glasgow Girls', known to her students as 'Purple Patch' because of her insistence that there is colour in shadows and her liking for pattern and flowers. She was uniquely Scottish and uniquely her, evolving a distinctive style to become the foremost female Scottish painter of her day. Her success was perhaps only possible in the enlightened cultural atmosphere of Glasgow at the turn of the century, under the benign and encouraging influence of 'Fra' Newbery, Director of the Glasgow School of Art, where Gray was taught and later in turn became a teacher. She flowered in Newbery's hothouse, where the dominant influence on her was the Belgian artist Jean Delville, a Symbolist painter (and Theosophist) who spoke little English but was an inspirational teacher, grafting exotic continental ideas onto solid Scottish stock.
This girl, with a cat on her lap and some pansies, also sat to Gray for her painting Little Brother, in the Kelvingrove collection, but we don't know who she is – perhaps one of Gray's sisters. Her severe profile is softened by muted browns and soft creams, painted with a flat brush, and the yellows in the cat's eyes and of the pansies give the picture a vibrant rhythm. There's even purple in the patches of shadow!
Commentary by Rupert Maas, dealer and historian specialising in Victorian and modern British art. He has appeared on BBC's Antiques Roadshow since 1997. As proprietor of the Maas Gallery in Mayfair, founded in 1959, he has curated many exhibitions and supplied collections all over the world.