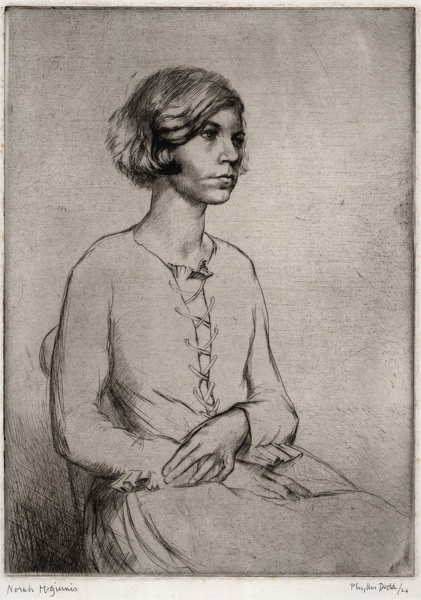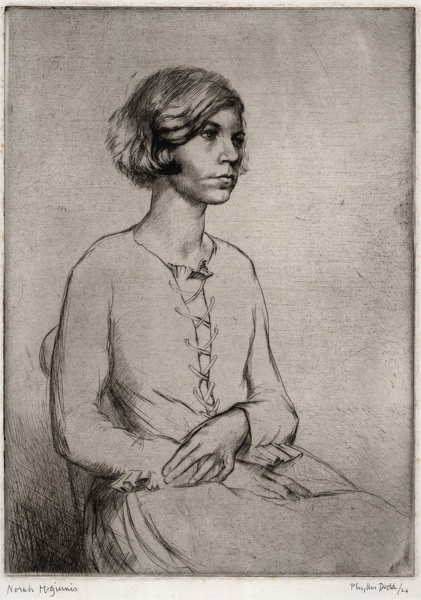 Hover over the painting to magnify (there may be an initial delay while the magnified image is loaded)
Phyllis Dodd (1899-1995):
Norah McGuinness , 1924
Framed (ref: 8379)

Signed, titled and inscribed 'drypoint'.
Drypoint.
Image size; 10 1/2 x 8 in. (27 x 20 cm).
Frame size; 43cm x 33cm
See all works by Phyllis Dodd etching portraits women 1.PORTRAIT OF AN ARTIST
Provenance: The Artists' Daughters
Phyllis Dodd was an accomplished portrait artist. Studying at the Liverpool School of Art from 1917–21, Dodd received a Royal Exhibition Scholarship and attended the Royal College of Art for four years – alongside Henry Moore (1898–1986), Raymond Coxon (1896–1997) and Edna Ginesi (1902–2000), with whom she would remain friends for the rest of her life – winning the Drawing Prize in her final year. Other friends included
Norah McGuinness attended life classes at Derry Technical School and from 1921 studied at the Dublin Metropolitan School of Art under Patrick Tuohy (1894–1930), Oswald Reeves (1870–1967) and Harry Clarke. Through Clarke she obtained a commission to illustrate Sterne's A Sentimental Journey (London, 1926). She attended the Chelsea Polytechnic in London, where her co-lodgers were the Phyllis Dodd and Kathleen Bridle, (known to friends as Pindi).
She settled in 1925 in Wicklow and was involved in the literary and theatrical life of Dublin, designing for the Abbey and Peacock theatres and illustrating W. B. Yeats's Stories of Red Hanrahan (London, 1927).
She married the editor Geoffrey Phibbs, but they divorced in 1930 after Phibbs had left her more than once, notably for the poet Laura Riding, also the mistress of Robert Graves.
On Mainie Jellett's advice she went to Paris in 1929 to study with André Lhôte and came under the influence of the Ecole de Paris.
Portrait of Norah McGuinness by Hugh Cronyn (who had studied with her at André Lhote's aetalier in Paris) 1937 (Private Collection).
After time spent in Paris she moved to London where she was a member of Lucy Wertheim's 'Twenties Group' and of the avant-garde London Group. From 1937-39 she lived in New York. After New York, she returned to Ireland in 1939, settled in Dublin and concentrated on painting. She died in County Dublin.
Although her work remained figurative, she painted vivid, highly coloured landscapes; her work shows the cubist influence of Lhote and she was associated with the modern movement in Ireland. She helped found the Irish Exhibition of Living Art in 1943 and became its president in 1944 after the death of Mainie Jellett.
With Nano Reid she represented Ireland in the 1950 Venice Biennale. This was the first time Ireland participated in this international exhibition. By 2017, the official list of artists representing Ireland since 1950 showed that the majority of artists chosen in the years since McGuinness and Reid's participation were women. She was elected an honorary member of the Royal Hibernian Academy in 1957, but later resigned.
There was a retrospective of her work in the Douglas Hyde Gallery, Trinity College Dublin in 1968, and in 1973 the college awarded her an honorary doctorate. Her work featured in IMMA's 2013 'Analysing Cubism' exhibition.
Works by McGuinness can be found in the following public collections: The Crawford Art Gallery, Cork,The Irish Museum of Modern Art,The National Gallery of Ireland, Dublin City Gallery The Hugh Lane, The Victoria and Albert Museum, London, The Arts Council of Ireland, and The Arts Council of Northern Ireland.
We are grateful to Carole Froude-Durix and Rosalind Bliss for assistance.