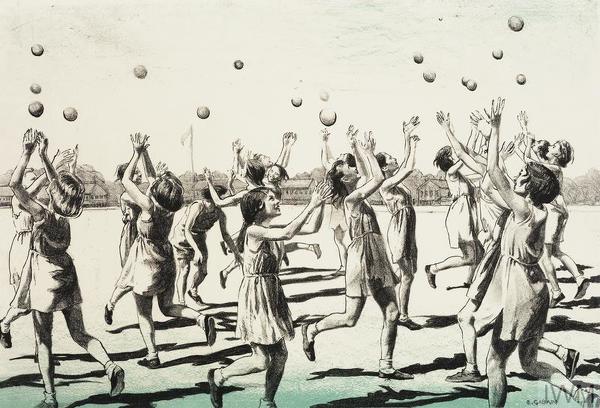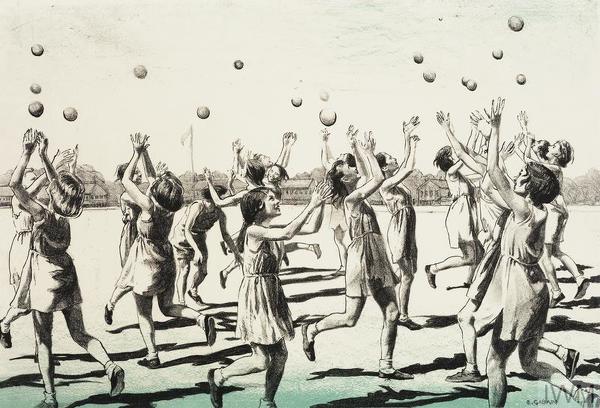 Hover over the painting to magnify (there may be an initial delay while the magnified image is loaded)
Ethel Leontine Gabain (1883-1950):
London Schoolgirls at Finnemore Wood - Camp Children in Wartime, 1940
Framed (ref: 8472)
Signed in the print
Lithograph
11 3/4 x 18 in. (29.8 x 45.7 cm)
See all works by Ethel Leontine Gabain lithograph print children leisure sport war women WOMEN Sporting Greats

Gabain she was appointed an Official War Artist in 1940 and produced two sets of prints published by the Ministry of Information, Children in Wartime and Women's Work in the War. Each folio contained six lithographs and a commentary on each:



A large class of girls, dressed in gymslips and plimsolls, playing out in a field in front of a camp. The wooden camp buildings stand in the background. Each girl has a ball, which she tosses in the air and catches. 'This one of the thirty-one camps which have been specially built in the country and are now housing schools from the evacuation areas. At present there are about 6,000 children in the camps. 'Evacuation' has made possible this valuable experiment in country boarding schools, and when peace comes, it is not likely that they will disappear.'
(from portfolio notes, Children in Wartime).