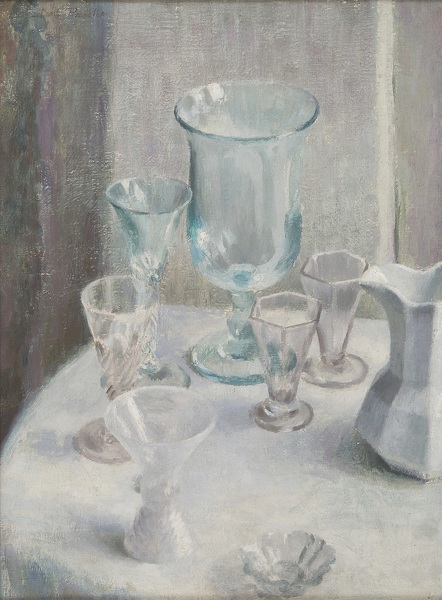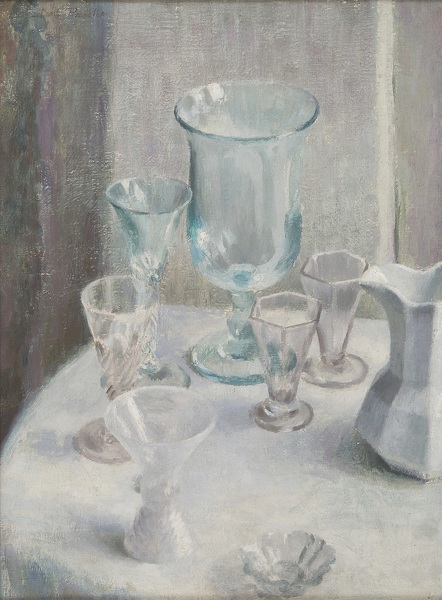 Dod Procter (1890 - 1972):
Glass, circa 1935
Framed (ref: 9967)

Oil on canvas
20 x 15 ¼ in. (50.9 x 38.7 cm)
See all works by Dod Procter oil interiors still lifes women Fifty Works by Fifty British Women Artists 1900 - 1950
Provenance: Jerwood Collection
The cool, grey-white tones of Glass – painted at North Corner, the house in Newlyn which Dod Procter shared with her artist husband, Ernest – recall the painting which had made her a household name. Morning had been voted Picture of the Year following its inclusion in the Royal Academy's Summer Exhibition in 1927, where it was purchased by the Daily Mail for £300 and gifted to the nation. It is now in the Tate Collection.
Although a different subject, Glass shares a sense of timelessness, simplicity, understated strength and soft glowing light with Morning, a portrait of a young girl asleep on a rumpled bed. It is possible that Glass had been inspired by Dod's exhibited designs in the ceramics and glassware sections of the Royal Academy's Exhibition of British Art in Industry in 1935.
Dod Procter (née Shaw) was born in Hampstead in 1890 and at the age of seventeen moved with her family to Newlyn and was enrolled at the Forbes School of Painting, where she met Ernest. Dod's life and art was inevitably influenced by time, place and circumstance – her life spanning as it did the end of the twentieth and much of the twenty-first century, experiencing two world wars, industrialisation and huge developments in education, technology, transport and the social status of women.
In 1942, Dod was only the second woman to be elected as a full RA member and was one of the few women who managed to succeed as a professional artist in her own right, with her work exhibited internationally.
Commentary by Philippa Hogan-Hern, Director of Jerwood, a family of philanthropic arts organisations supporting the arts in the UK.