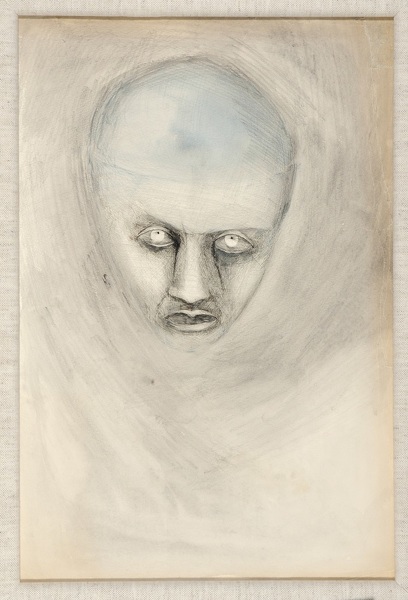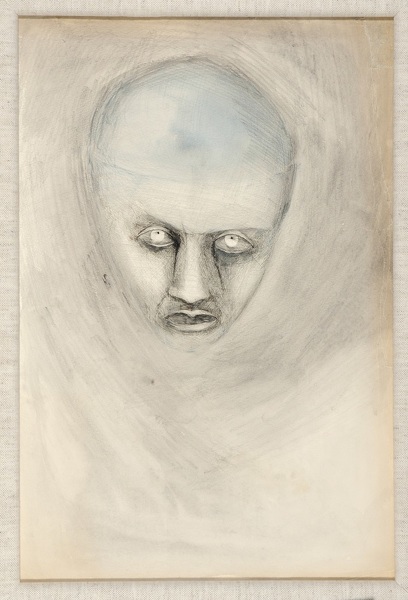 Leonora Carrington (1917 - 2011):
Head, 1940-41
Framed (ref: 9969)

Pencil, ink and watercolour on paper
36.8 x 24.8 cm
See all works by Leonora Carrington ink pencil watercolour portraits women Fifty Works by Fifty British Women Artists 1900 - 1950
Provenance: The Sherwin Family
Leonora Carrington was an English-born Mexican artist and novelist. She contributed to the Surrealist movement, although she herself described her work as 'magical realism'. Head was made while Carrington was interned at Dr Morales' asylum in Santander, Spain. Her love affair with Max Ernst had come to a shattering conclusion when he was arrested by the Gestapo (his art being considered 'degenerate'), subsequently fleeing, with the help of Peggy Guggenheim, to the United States. This left Carrington in a delusional state of paralytic anxiety and severe paranoia.
Three years after her release, and encouraged by André Breton, Carrington wrote about her psychotic experience in her book Down Below, in which she described how – whilst regaining her mental equilibrium in the asylum, where she was subjected to convulsive therapy – she was unable to determine whether she was in a hospital or a concentration camp. When a reproduction of Head was sent to Broadmoor Psychiatric Prison Hospital for assessment, the professional response by return of post read: "definitely someone dealing with their own demons".
Whilst psychosis remains one of the most significant forces leading to creativity in art, and to which references are numerous (for instance, Gustave Courbet's The Desperate Man, 1844-45, or Edvard Munch's Self-Portrait in Hell, 1903), Carrington's self-portrait differentiates itself from most. She does not hide behind symbolism; rather, she exposes her greatest fears without a hint of self-doubt, capturing the pain of her own torment with utmost sincerity.
Commentary by Maude Llewellyn. Llewellyn's passion for art began at the age of fourteen when she fell under the spell of Barbara Jones' epic 1961 mural Man at Work. She is currently studying Mandarin in Taiwan whilst completing the WSET Level 4 diploma.