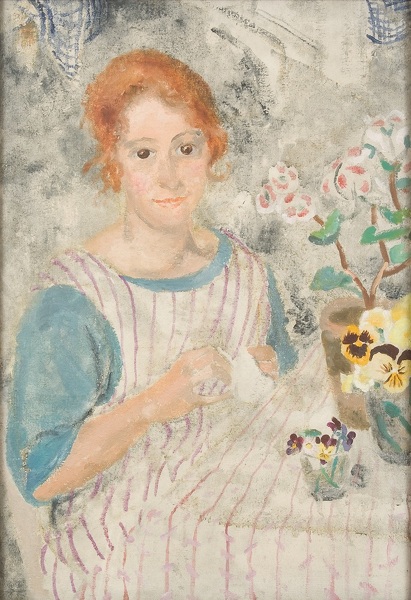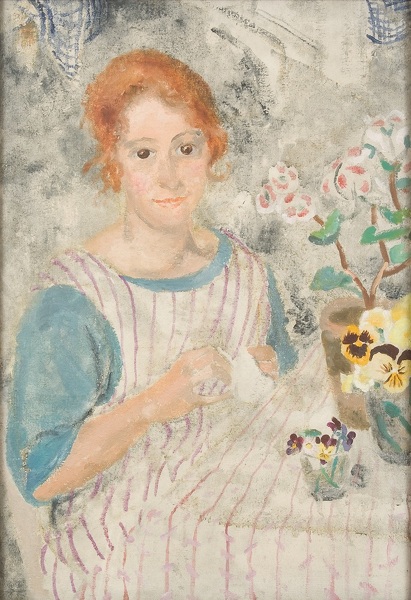 Winifred Nicholson (1893 - 1981):
Amy, 1928
Framed (ref: 9978)

Oil on canvas
32 x 22 in. (81.5 x 56 cm)
See all works by Winifred Nicholson oil portraits women Fifty Works by Fifty British Women Artists 1900 - 1950
Provenance: Jerwood Collection
Exhibited: 50/50; Fifty British Women Artists 1900 – 1950, Worshipful Company of Mercers (3rd December 2018 - 23rd March, 2019); The Stanley & Audrey Burton Gallery, University of Leeds (9th April, 2019 - 27th July, 2019).
This portrait depicts Amy Little, one of the maids that worked for Ben and Winifred Nicholson at Bankshead, the house bought by Winifred in 1923. In the painting, acquired for Jerwood Collection in 1997, Amy sits sewing at a table covered in a lilac print cloth which matches the apron she wears; she looks out at the viewer over a table on which spring flowers have been arranged. Through this quietly beautiful painting we are given a glimpse into the Nicholsons' private domestic life as well as their relationship and wider friendships.
The piece was exhibited the year it was made alongside paintings by Ben and pottery by William Staite Murray and, through a recording of Amy talking about sitting for Winifred, we gain an insight into Winifred's practice: Amy recollected that Winifred worked in silence, while she sat sewing, and painted her hair redder than it was.
Amy was painted in spring 1928 during a particularly happy period of Winifred's life: as well as being settled in her beloved Bankshead, her close friend and fellow artist Christopher Wood had come to stay. Later Winifred recalled (in Unknown Colour, published 1987): "... primroses came out in the lane in sheltered nooks. One whole day I painted them and other spring flowers in small glass jars with Amy sewing by the table… He [Wood] came up from the valley with the springing step of eternal youth. He had been out all day with Ben along by the river in the green valley making schemes for pictures and drawings."
Commentary by Lara Wardle, freelance curator, Director of Jerwood Collection and Director of Jerwood, a family of philanthropic arts organisations supporting the Arts in the UK.