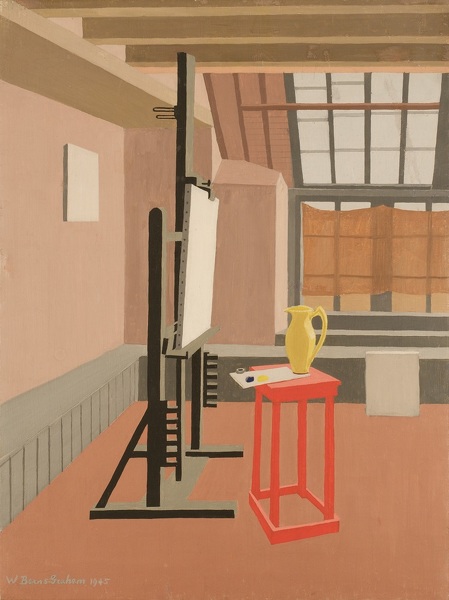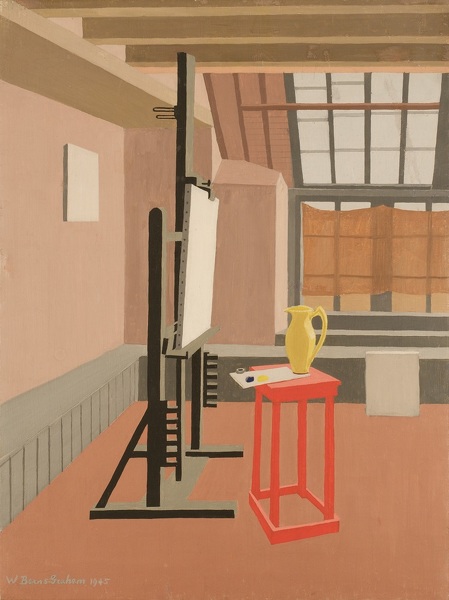 Wilhelmina Barns-Graham (1912 - 2004):
Studio Interior (Red Stool, Studio), 1945
Framed (ref: 9981)

Oil on canvas
Signed and dated, 1945
24 x 18 in. (60 x 45.6 cm)
See all works by Wilhelmina Barns-Graham oil interiors women Fifty Works by Fifty British Women Artists 1900 - 1950
Provenance: The Wilhelmina Barns-Graham Trust
Exhibited: 50/50; Fifty British Women Artists 1900 – 1950, Worshipful Company of Mercers (3rd December 2018 - 23rd March, 2019); The Stanley & Audrey Burton Gallery, University of Leeds (9th April, 2019 - 27th July, 2019).
Wilhelmina Barns-Graham moved from Edinburgh to St Ives in 1940, on the renewal of her Edinburgh College of Art (ECA) Special Maintenance Scholarship. The principal of the college, Hubert Wellington, had suggested Cornwall due to the outbreak of World War Two and the subsequent gathering of modernist artists there, including Barbara Hepworth and Ben Nicholson, whom Barns-Graham met through her ECA friend, the artist Margaret Mellis.
Studio Interior (Red Stool, Studio) depicts Barns-Graham's first studio in St Ives, no. 3 Porthmeor Studios. She rented it from 1940 until 1946 for 7s 6d per week. It was furnished and had a tall, north-facing window on to Porthmeor Beach. It was situated in the heart of the artists' community, near the St Ives Society of Artists, St Ives School of Painting and the studios of Alfred Wallis and Leonard Fuller, amongst others.
The painting is a celebration of Barns-Graham's imposing studio, which symbolised the beginning of a new chapter in her career. The three blank canvases – one on the wall, one propped up beneath the window and one on the easel – accompanied by the prepared palette on the stool create a sense of creative potential and anticipation; the tools of her trade are confidently depicted in a complex yet carefully orchestrated composition, in which yellow and red play a constructive role. The focus is on the work which Barns-Graham is to make, with which she was to make her name as a pioneer of British abstraction.
Commentary by Alice Strang, Senior Curator (Modern and Contemporary Art) at the National Galleries of Scotland. Between 2014 and 2018 she was a Trustee of the Wilhelmina Barns-Graham Trust.