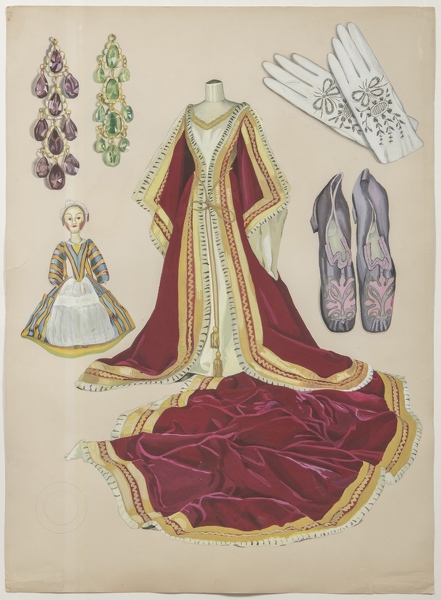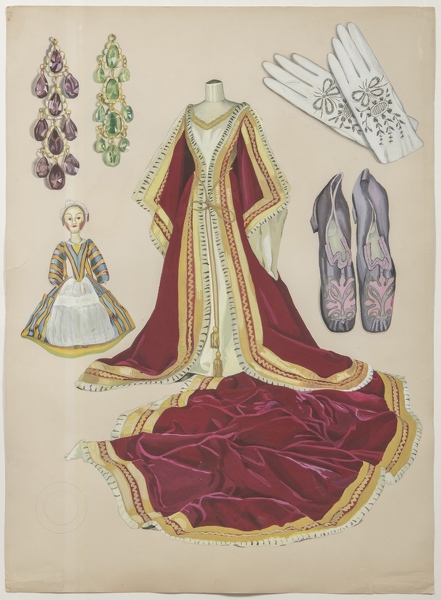 Hover over the painting to magnify (there may be an initial delay while the magnified image is loaded)
Edith Rimmington (1902 - 1986):
The Museum II
Framed (ref: 10586)

Watercolour, gouache, pen and ink on paper
29 15/16 x 22 1/16 in. (76 x 56 cm)
See all works by Edith Rimmington gouache pen and ink watercolour Surrealists women
Provenance: Gifted by the artist to present owner
Exhibited: Dreamers Awake, White Cube Bermondsey, 28 June 2017 – 17 September 2017.
Museum II is an exceptional work in Edith Rimmington's artistic production, in the sense that she never made works exceeding a 50 X 70 cm format. Together with its pair (Museum I, pictured below), this was made following an exhibition of regalia that Rimmington saw in London, which gave her the idea of a counter-celebration of kingship, with subtle, ironic undertones.
The Queen is represented with lavish but useless trappings. The gloves and slippers are of no use to her; nor the tear- drop earrings, for she has no head. Like the king and the chess piece, the doll shows her as but a toy for some greater power.
Commentary provided by Michel Remy, the leading authority on British Surrealism.