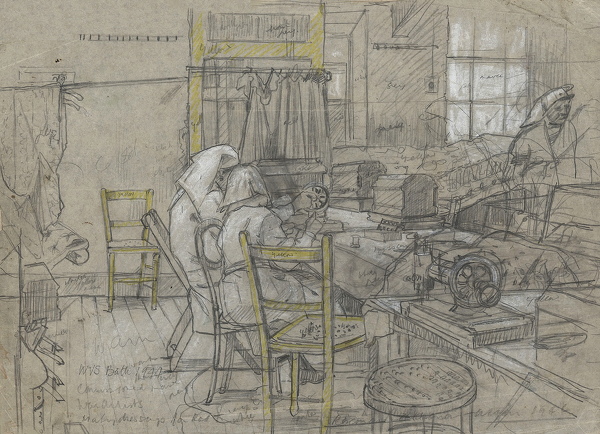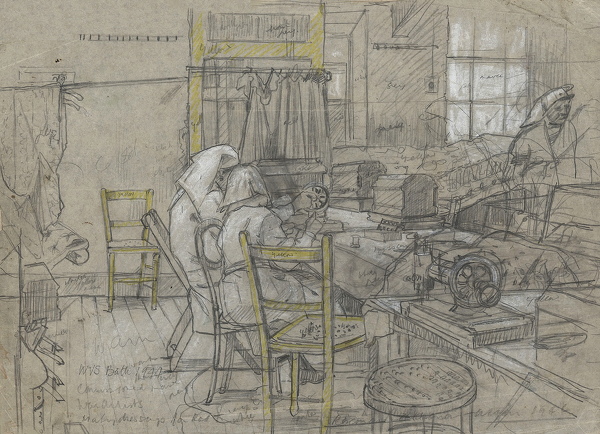 Hover over the painting to magnify (there may be an initial delay while the magnified image is loaded)
Rosemary Allan (1911-2008):
Making dresses for the Red Cross, c. 1944
Framed (ref: 4613)

Signed, dated and inscribed with notes
Pencil with yellow highlights in crayon
10 3/4 x 14 3/4 in. (27 x 37.3 cm)

See all works by Rosemary Allan crayon pencil war women work World War II Paintings by British Artists
Provenance: Private Collection
Exhibited: WW2 - War Pictures by British Artists, Morley College London, 28 October -23 November 2016, cat 95.
Literature:
WW2 - War Pictures by British Artists, Edited by Sacha Llewellyn & Paul Liss, July 2016, cat 95, page 140-141.
Rosemary Allan in doing short-term contract work for the WAAC expressed her gratitude to the committee for giving them the opportunity to come to terms with subjects and conditions that were new and challenging.
By 1943 there were 7.25 million women engaged in war-related employment , the majority in agriculture, manufacturing and civil defence.
Evelyn Dunbar, the only woman to receive a full time salary, was commissioned to produce agricultural and woman subjects.
Although recording the role of women was one of the stated aims of WAAC as Brian Foss has pointed out the scheme nevertheless favoured images of women performing conventional roles - for instance the predominance of paintings of women as nurses inspite of the fact that in 1943 munitions worker outnumbered nurses by 100 to 1 is noticeable. Dunbar, as the only wpman to be salaried as an Official War Artists delighted in showing women at work in all of the essential roles they performed during the war.