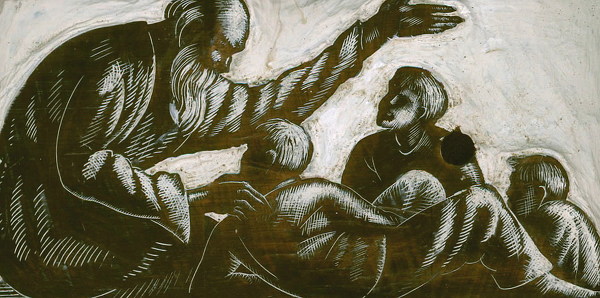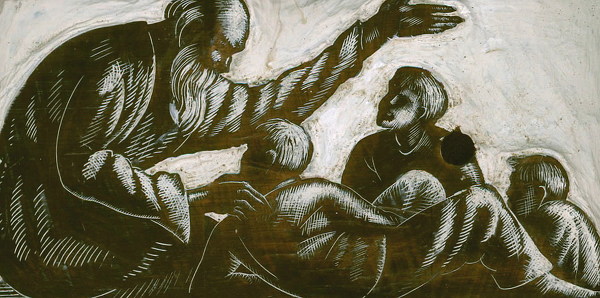 Clare Leighton (1898-1989):
BPL 664 Hear ye children (BPL664) Psalms, circa 1952
Framed (ref: 5321)

Original woodblock, cancelled,
2 x 4 in. (5.3 x 10 cm)
See all works by Clare Leighton plate woodblock children men religion
Provenance: The Artist's Estate
Literature: Clare Leighton, An Exhibition ....Amercan Sheaves English Seed Corn...., The Boston Public Library, p 21.
Leightons epic project Psalms. (The Book of Psalms [and] The First Psalm of David, the Book of Proverbs [and] The Book of Ecclesiastes) was published by Doubleday, 1952. This image had particular poignancy for Leighton who devoted much of her life to teaching art to children who - by virtue of their social background - would not normally have had access to an education in art. Hear Ye Children was published in an edition of 75 from this original (now cancelled) block. It is recorded as no. 664 in the Boston Public Library catalogue of Leighton's work.
Clare Leighton was an artist, writer and wood engraver, best known for her illustrated books recording English rural life (The Farmer's Year, 1933, Four Hedges, 1935), and her recording of life in Amercia where she emigrated to in 1939. Southern Harvest, 1942 New England Industries,1952, (produced for Wedgwood) are amongst the most celebrated and poignant records of American rural life of their period.