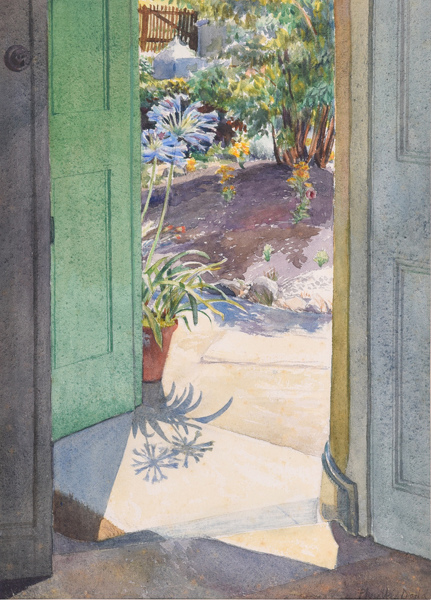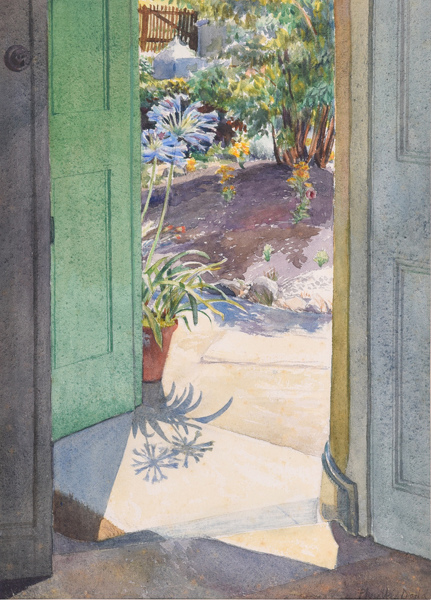 Hover over the painting to magnify (there may be an initial delay while the magnified image is loaded)
Phyllis Dodd (1899-1995):
Summer Doorway with African Lilies, c.1948
Framed (ref: 7014)
Signed, pencil and watercolour on paper, sight size 38.5 x 28 cm
See all works by Phyllis Dodd pencil watercolour flowers Garden interiors Garden Museum
Provenance: From the Artist's Estate
In the summer of 1945 the Blisses made their final move to Hillside Cottage in Windley village,....a scattering of houses along a single lane rising up through the Derwent Valley; this was to become Bliss's own Valley of Vision like Samuel Palmer's in Shoreham.
This watercolour shows a view from the front door at Hillside Cottage.
We are grateful to Malcolm Yorke and Simon Lawrence, for allowing use of the above information which appears in the Fleece Press Publication, Gargoyles & Tattie-Bogles, 2017.
Exhibited: Sanctuary, Artist-Gardeners, 1919-39, Garden Museum, London, 25th February – 5 April, 2020
Literature: Christopher Woodward, Sanctuary: Artist-Gardeners, 1919–1939, published by Liss Llewellyn, 2020