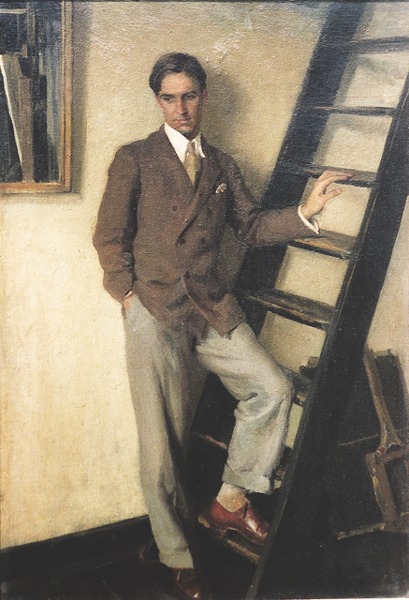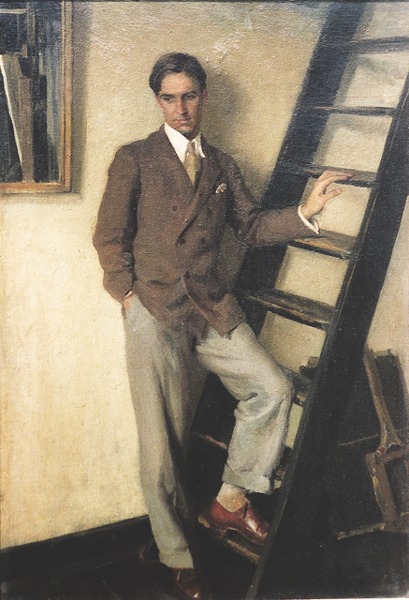 Phyllis Dodd (1899-1995):
Portrait of Douglas Percy Bliss
Framed (ref: 9027)

Oil on board
30 x 20 in. (76.2 x 50.8 cm)
See all works by Phyllis Dodd oil panel men portraits 1.PORTRAIT OF AN ARTIST RCAGardenMusuem
Provenance: The Artist's Estate
Literature: Llewellyn, Sacha, and Paul Liss. Portrait of an Artist. Liss Llewellyn, 2021, p.204.
Phyllis Dodd studied at the Liverpool School of Art before moving to the Royal College in London, where her future husband Douglas Percy Bliss was also enrolled.
This portrait dates to the point where Bliss' reputation as a wood engraver was on the rise. In 1925, the august and conservative Oxford University Press published a book of engravings by the young art student illustrating 'Border Ballads'. Commissions quickly followed given the commercial success of this, including illustrations for 'The History of Rasselas' by Dr. Johnson, published by J.M. Dent in 1926. The same publishers the paid a great compliment to Bliss when they commissioned him to write 'A History Of Wood Engraving' - a text still seen as the seminal work on this subject.
The couple married in 1928 and in 1945, moved to Glasgow, when Percy Bliss was appointed Director of the Glasgow School of Art.
Phyllis Dodd achieved considerable success from early on in her prolific career. Studying at the Liverpool School of Art from 1917–21, she received a Royal Exhibition Scholarship and attended the Royal College of Art for four years – alongside Henry Moore (1898–1986), Raymond Coxon (1896–1997) and Edna Ginesi (1902–2000), with whom she would remain friends for the rest of her life – winning the Drawing Prize in her final year.
From 1925 to 1930 she taught part-time at Walthamstow Technical College. In 1928, she married the artist Douglas Percy Bliss (1900–1984) and they worked alongside each other, exhibiting together at Derby Art Gallery in 1947. She also exhibited at the NEAC, the RA, the RP, the Walker Art Gallery and the RSA, and in 1989 the Hatton Gallery at Newcastle University held a large retrospective exhibition to celebrate her ninetieth birthday. Two of Bliss's closest friends at The Royal College of Art, and with whom he shared student lodgings, were Edward Bawden and Eric Ravilious. Bliss was in the School of painting at the RCA, where as his two friends were in the school of design. The three friends were soon on the nickname terms – Bawden was 'The Pale Spirit' Bliss was Mahatma and Ravilious The Boy.
"Bawden lived to work: neither smoke nor drunk and had no serious interest in sports, theatre, film, politics and dancing. He was also wary of women ("The great Untouchables") and cripplingly shy, though this did not prevent him from having a scathing sense of humour, often with a cruel streak, as when he sent Bliss a loaf with a dead mouse inside. Bliss found him abrasive, tactless, self absorbed and social liability and discussed with Ravilious whether to drop him, but they concluded, 'Bawden was unique and we were lucky to have him." (Malcolm Yorke, Gargoyles & Tattie-Bogles, 2017, Fleece Press, p. 48)
The portrait was painted in Cecilia Dunbar Kilburns studio at 37 Redcliffe Road.
We are grateful to Malcolm Yorke and Simon Lawrence, for allowing use of the above information which appears in the Fleece Press Publication, Gargoyles & Tattie-Bogles, 2017.